The College Press NIV Commentary: Mark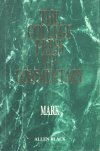 Overview
What would you give up to spend just one hour with Jesus as He walked along the Judean countryside? What would you ask Him as you walked along the Sea of Galilee? Believed by some to be the first Gospel account of Jesus' life, the Gospel of Mark captures all of the emotion and marvel of the Son of God! Written from the memoirs of the Apostle Peter by his self-proclaimed "spiritual son" John Mark, the Gospel of Mark tells the miraculous story of God's plan to redeem all people who will call on His name. With authority and power, Mark leads us through the life-changing encounters of everyday people as they were touched and made whole by Jesus; emotionally, physically, and most importantly, spiritually. Your life will be changed and your soul revived as you study the Gospel of Mark through the NIV Commentary Series.
Product Details
Title: The College Press NIV Commentary: Mark
Author: Allen Black
Publisher: College Press
Publication Date: 1995
Reviews
What other people are saying about The College Press NIV Commentary: Mark.