The College Press NIV Commentary: Romans, Volume 1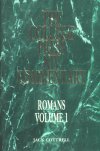 Overview
God's word is a lamp to our feet and a light for our path (Psalm 119:105), and no part of it shines more brilliantly than the book of Romans. The truth of God's Word sets us free (John 8:32) and Romans teaches us the most liberating of all truth. God's Word is sharp and piercing like a sword (Hebrews 4:12), and no blade penetrates more deeply into our hearts than Romans. Martin Luther called the Epistle to the Romans "the greatest book within the greatest book." He undoubtedly was referring to the awesome power of God revealed in Romans. This power, contained within Paul's Epistle, has saved lives, changed hearts and altered the very course of human history. American churches have tended to concentrate on the book of Acts. Acts is a tremendous book, especially when it comes to building New Testament churches. However, Romans is to Acts what meat is to milk. As a group we need to mature; we need to move from Acts to Romans. The Apostle Paul understood the power of the Gospel of Christ. His Epistle reveals salvation on an intellectual and spiritual level not attainable by any other work or religion. It is this challenge to the intellect of men and women that produces historic change. The Epistle to the Romans is, therefore, an intellectual guide to Christianity.
Product Details
Title: The College Press NIV Commentary: Romans, Volume 1
Author: Jack Cottrell
Publisher: College Press
Publication Date: 1996
Reviews
What other people are saying about The College Press NIV Commentary: Romans, Volume 1.