The IVP New Testament Commentary Series: 1-2 Timothy & Titus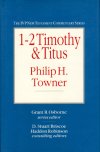 Overview
Questions about the nature of Christian leadership and authority, attitudes toward wealth and materialism, proper responses to cults, the role of women in the church, and even the validity of the institution of marriage are not new. Paul addressed these issues in personal letters to Timothy and Titus as leaders of first-century congregations in Ephesus and Crete. What he had to say to them is as relevant to us as today's newspaper headlines. In this clear, pastorally oriented commentary, readers will find helpful background material on authorship, date and purpose, as well as an overview of theological themes in the Pastoral Epistles. The introductory material is followed by passage-by-passage explanation of the meaning these letters had for their first-century hearers in order to pave the way for understanding their significance for readers today. Students, pastors, Bible teachers and everyone who wants to understand the message of the Pastoral Epistles for the church will benefit from this excellent resource.
Product Details
Title: The IVP New Testament Commentary Series: 1-2 Timothy & Titus
Author: Philip Towner
Publisher: IVP
Publication Date: 1994
Reviews
What other people are saying about The IVP New Testament Commentary Series: 1-2 Timothy & Titus.