The IVP New Testament Commentary Series: Ephesians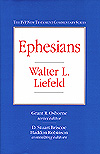 Overview
For those who long to delve into the mind and purposes of God, few books are more helpful than Paul's letter to the Ephesians. Here the apostle paints in broad strokes the great plan of God for his church, centered on its head, Jesus Christ, and living out its calling in praise of God's glory. Beginning with doxology, Paul calls on the church to support its words of praise with deeds to match. Christians today will find here inspiration and insight that will confirm their allegiances and shape their lives. Written with warm pastoral insight, this commentary supplies readers with a helpful introduction, covering authorship, date, background material and a summary of theological themes. A passage-by-passage exposition follows that focuses on understanding what Paul had to say to his original readers in order to see its relevance for the church today.
Product Details
Title: The IVP New Testament Commentary Series: Ephesians
Author: Walter L. Liefeld
Publisher: InterVarsity
Publication Date: 1997
Reviews
What other people are saying about The IVP New Testament Commentary Series: Ephesians.