Discover the Saint of the Month
Contemplate the legacy of the Church's saints with Verbum.
July
St. Bonaventure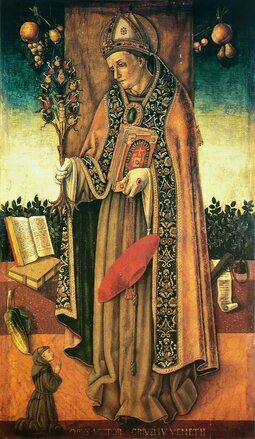 Lived: 1221-1274 AD
Feast Days: July 15
Patronage: Intestinal and bowel disorders

St. Bonaventure, the Seraphic Doctor, was born in Tuscany in 1221. He was given the name Bonaventure when he was miraculously cured of illness after the intercessory prayer of St. Francis of Assisi, who upon finding out that the young boy had been cured proclaimed, "O bona ventura!" At that point, St. Bonaventure's mother consecrated her son to God.
He joined the Franciscan Order as a young man and became an accomplished theologian. He is considered, alongside his contemporary and friend St. Thomas Aquinas, one of the great thinkers in the history of the Church, and his classic The Soul's Journey Into God remains widely read.
St. Bonaventure died in 1274 after leading the Council of Lyons to end the schism with the Greek Church. He is said to have spent his final moments beholding the crucifix. "The fear of God," says St. Bonaventure, "forbids a man to give his heart to transitory things, which are the true seeds of sin."
Explore the Theology of St. Bonaventure
June
St. Justin Martyr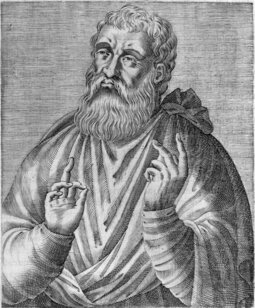 Lived: 100-165 AD
Feast Day: June 1
Patronage: Philosophy

St. Justin was born of Greek parents in Flavia Neapolis (today's Nablus, Jordan) in about AD 100. He trained in Greek Platonic philosophy and became a Christian at age 30 after an old man, whom he had met on the seashore, spoke to him about the prophets of the Old Testament and about Christianity. Justin saw Christianity as the fulfillment of Plato's highest aspirations.
After Justin's conversion, he taught Christian philosophy at Ephesus, and in 135 left for Rome, where he opened his own Christian school.
In about 165, during the reign of Marcus Aurelius, Justin was denounced to the city prefect, Rusticus, for being a Christian. When he refused to sacrifice to idols, he was scourged and beheaded with six other Christians. "Do you think," the prefect said to Justin, "that by dying you will enter heaven and be rewarded by God?" "I do not think," was the Saint's answer; "I know."
The Acts of his martyrdom are extant, and their importance lies in the fact that they are a contemporary record. The exact date of his martyrdom is unknown, but his memorial has always been celebrated in the East on June 1. Justin was the Church's first great apologist, and he was the first Christian thinker to try to reconcile the teachings of faith with reason. His two Apologies are invaluable for their description of the Church's early liturgy.
This short bio is lightly adapted from Saints and Feasts of the Liturgical Year, June 1. The dialogue between Justin and the prefect is added from The Pictorial Lives of the Saints.
Explore the Writings of St. Justin Martyr
May
St. Mary, Virgin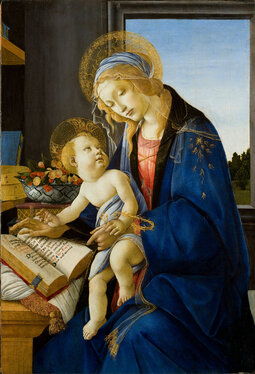 Lived: 16 BC - 58 AD
Feast Day: January 1
Patronage: All good activity and all of humanity; Mother of the Church

May is the month of Saint Mary the Virgin, Mother of God. What we know about Mary comes from the New Testament and the traditions of the Church. Mary is with Jesus at birth, throughout His life and ministry, and at the crucifixion.
When the angel Gabriel came to Mary and announced that she would be the mother of Jesus, she accepted the role in perfect faith and obedience: "Behold, I am the handmaid of the Lord. May it be done to me according to your word" (Luke 1:38). At the crucifixion, Jesus said to a disciple concerning Mary, "Behold your mother!" Thus Catholics call Mary "our mother." St. Thomas Aquinas described the special veneration due to Mary as far less than that due to God but greater than that due to other saints.
In the Vatican II document Lumen Gentium, the Church distinguishes between veneration for Mary and adoration of Christ:
Placed by the grace of God, as God's Mother, next to her Son, and exalted above all angels and men, Mary intervened in the mysteries of Christ and is justly honored by a special cult in the Church.
Clearly from earliest times the Blessed Virgin is honored under the title of Mother of God, under whose protection the faithful took refuge in all their dangers and necessities. Hence after the Synod of Ephesus the cult of the people of God toward Mary wonderfully increased in veneration and love, in invocation and imitation, according to her own prophetic words: "All generations shall call me blessed, because He that is mighty hath done great things to me". This cult, as it always existed, although it is altogether singular, differs essentially from the cult of adoration which is offered to the Incarnate Word, as well to the Father and the Holy Spirit, and it is most favorable to it.
The various forms of piety toward the Mother of God, which the Church within the limits of sound and orthodox doctrine, according to the conditions of time and place, and the nature and ingenuity of the faithful has approved, bring it about that while the Mother is honored, the Son, through whom all things have their being and in whom it has pleased the Father that all fullness should dwell, is rightly known, loved and glorified and that all His commands are observed." (Lumen Gentium, VII, 66)
Discover Mary in Scripture and Tradition with Behold Thy Mother, the 30-day Verbum challenge.
Explore the Life of St. Mary
April
St. Catherine of Siena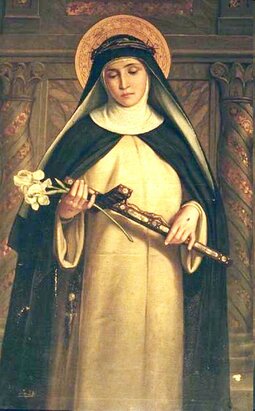 Lived: 1347–1380
Feast Day: April 29
Patronage: Fire prevention, miscarriages, sexual temptation, sickness, and people ridiculed for their piety

Catherine of Siena is a highly revered saint and doctor of the Church, known chiefly for her mysticism and spiritual writing, as well as her influence on Pope Gregory XI.
Born Caterina di Giacomo di Benincasa amid the ravages of the Bubonic plague, Catherine was the 23rd-born of her mother (her twin sister died shortly after childbirth, and half of her mother's children had already died by that time). She was a merry child, nicknamed "Euphrosyne," or joy in Greek.
At age five or six, Catherine reportedly had her first vision of Christ, and at age seven vowed to give her life to him. At age sixteen, when her older sister died, she resisted pressure from her parents to marry her sister's widower. She even cut her hair short to become less attractive for marriage.
Perhaps this vigilance prepared for her for most famous vision, her "Mystical Marriage" with Jesus, which she describes in her letters. In it, she receives from Christ a wedding ring. Some hold it was a bedazzled ring, others that it was made of Christ's foreskin—a motif Catherine does use, though she typically claims the ring was invisible.
Catherine's mystic visions and experiences formed the basis for much of her writing, including the major treatise The Dialogue of Divine Providence, which is "a dialogue between a soul who 'rises up' to God and God himself." Perhaps more significant are her letters, which include correspondents like the Pope (whom she often addressed as Babbo, or "Daddy," instead of the formal address "Your Holiness"), Raymond of Capua, French and Hungarian kings, and many others.
Catherine was buried in the cemetery of Santa Maria sopra Minerva, near the Pantheon in Rome. However, after reports of miracles near her grave, her body was moved inside the Basilica of the church itself, where it remains.
Explore the Writings of St. Catherine of Siena
March
St. Joseph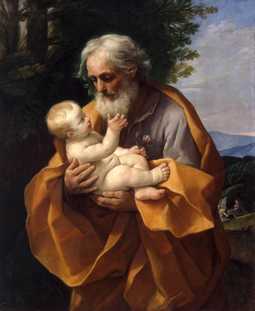 Lived: 90 BC – 18 AD
Feast Days: March 19 and May 1
Patronage: Universal Church, unborn children, fathers, workers, travelers, immigrants, and a happy death

St. Joseph, husband of Mary the mother of Jesus, is one of the Catholic saints about whom we know the least. All we know for certain about St. Joseph is what we find in in Matthew 1 and Luke 2.
Joseph was a descendant of King David and a good man who sought to honor Mary and obey God's instructions. When Herod felt threatened by the birth of "the king of the Jews," Joseph protected Mary and Jesus by escaping to Egypt. And when Herod died, an angel told Joseph it was safe to return to Israel.
We also know that Joseph was a carpenter, and Jesus took on the carpentry trade. Because Joseph doesn't appear after Jesus' visit to the temple at age 12, many people believe Joseph died before Jesus began his public ministry around age 30.
Beyond these biblical facts, there are a few legends concerning Joseph. One is that Jesus and Mary were with Joseph when he died, which is why Joseph is the patron saint of a happy death. Another handed down from St. Jerome is that Joseph was previously married and had children identified throughout the Gospels as Jesus' brothers (Matthew 12:46, Luke 8:19–20, and John 7:3–10, among others).
Despite the lack of Joseph's words recorded in Scripture, we know for certain Joseph was a righteous man who faithfully loved and served Mary and the child Jesus.
Explore the Life of St. Joseph
February
St. Peter Damian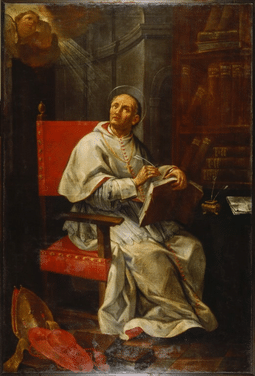 Lived: c. 1007–February 22, 1072
Feast Day: February 21
Patronage: Spiritual warfare, Church reformers, and Faenza, Italy

Born into a noble, but poor family, Peter Damian overcame early hardships at the hands of his own relatives to reach great success in the academic world. He made rapid progress in his studies through his graduation to the University of Parma. By the age of 25, Peter Damian was already renowned for his piety, intellect, and teachings.
Peter Damian became discouraged by the scandals of university and sought the relative solitude of monastic life and joined the church. Despite his seclusion, Peter Damian became well known for his wisdom and was promoted within its ranks. He was instrumental in settling many disputes within the church and helped heal the schisms of the day. Eventually, he was consecrated Cardinal-Bishop of Ostia in 1057.
Peter Damian was a prolific writer, with his theological thinking perhaps best exemplified in his most famous work, De Divina Omnipotentia, a letter addressing the power of God. After returning to Ravenna where he first began his studies, he died in 1073. Though no formal canonization ever took place, Peter Damian rose to sainthood and was pronounced a Doctor of the Church by Pope Leo XII in 1823.
Explore the Writings of St. Peter Damian
January
St. Thomas Aquinas

Lived: 1225–March 7. 1274
Feast Day: January 28
Patronage: Academics, apologists, philosophers, and theologians

One of the most influential philosophers and theologians of all time, St. Thomas Aquinas, is remembered for synthesizing the philosophy of Aristotle with the teachings of the Church. His Summa Theologiae is considered a masterwork of philosophical theology and continues to influence Christian and secular thought on ethics, metaphysics, and political theory.
Within a decade of his escape, Thomas had established a successful academic career within the Order. He began work on his Summa contra Gentiles, an apologetic work countering the teachings of Islam and Judaism. But it would be a later work, the Summa Theologiae, that would solidify his place as one of the Church's greatest thinkers.
Thomas' tireless devotion to the Church is exemplified by his dying words, spoken as he received last rites: "I have written and taught much about this very holy Body, and about the other sacraments in the faith of Christ, and about the Holy Roman Church, to whose correction I expose and submit everything I have written."
Explore the Ideas of St. Thomas Aquinas
December
St. John of the Cross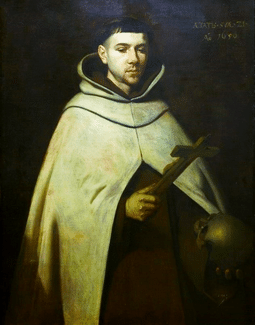 Lived: 1542-1591
Feast Day: December 14
Patronage: Contemplative life, mystics, and poets

Though born poor and persecuted throughout his life, St. John of the Cross is celebrated as one of the greatest Spanish poets in history. Catholics have contemplated his mystical writings for centuries, and his quick sketch of a vision inspired a well-known—and controversial—painting of Christ by Salvador Dali.
At age 25, the man who would become St. John of the Cross met Teresa of Avila, an influential Carmelite nun, and his life was changed forever. Inspired by her efforts at reform, the young priest followed Teresa and eventually founded a Carmelite monastery based on her principles.
Tensions between the establishment and these reformers mounted until, in 1577, John was imprisoned. During a confinement punctuated by public beatings, John penned some of his most celebrated mystical and poetic works. He eventually escaped by taking his prison door off of its hinges. When he died at the age of 49, he was so popular that the Carmelites declared that his body parts were to be shared among the order's monasteries.
Explore the Legacy of St. John of the Cross
November
St. Elizabeth of Hungary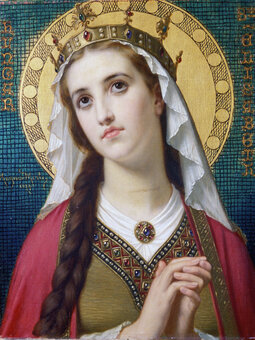 Lived: 1207-1231 AD
Feast Day: November 17th
Patronage: Bakers; beggars; brides.

St. Elizabeth was born into royalty but chose a life poverty. She dedicated her life to serving the poor, and after the death of her husband, Louis of Thuringia, in the Crusades, she joined the Franciscan Order to serve the destitute and ill at a hospital she had founded. Throughout her life she wore simple clothes and distributed bread to the hungry.
Butler records her death and related miracles thus: "The day of her happy death was on the 19th of November, in 1231, in the twenty-fourth year of her age. Her venerable body was deposited in a chapel near the hospital which she had founded. Many sick persons were restored to health at her tomb; an account of which miracles Siffrid, archbishop of Mentz, sent to Rome, having first caused them to be authenticated by a juridical examination, before himself and others."
Pope Gregory IX celebrated her canonization on May 27, 1235. She is the patron saint of bakers; beggars; brides; charities; death of children; the homeless; hospitals; Sisters of Mercy; widows.
Explore the Themes of St. Elizabeth
October
St. John Henry Newman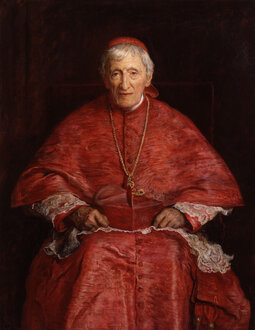 Lived: February 21, 1801-August 11, 1890 AD
Feast Day: October 9
Patronage: Campus ministry

St. Newman was received into the Catholic Church in 1845 after a career as an Anglican scholar and cleric. Before he became Catholic, he was a leader of the Oxford Movement in the Anglican church and wrote the definitive history of the Arian movement. His seminal book Essay on the Development of Christian Doctrine announced his conversion and made arguments for how Catholic doctrine develops without changing.
He writes thus about the dogmatic principle of faith: "That there is a truth then; that there is one truth; that religious error is in itself of an immoral nature; that its maintainers, unless involuntarily such, are guilty in maintaining it; that it is to be dreaded; that the search for truth is not the gratification of curiosity; that its attainment has nothing of the excitement of a discovery; that the mind is below truth, not above it, and is bound, not to descant upon it, but to venerate it; that truth and falsehood are set before us for the trial of our hearts; that our choice is an awful giving forth of lots on which salvation or rejection is inscribed; that "before all things it is necessary to hold the Catholic faith;" that "he that would be saved must thus think," and not otherwise; that "if thou criest after knowledge, and liftest up thy voice for understanding, if thou seekest her as silver, and searchest for her as for hid treasure, then shalt thou understand the fear of the Lord, and find the knowledge of God,"—this is the dogmatical principle, which has strength."
Pope Francis celebrated the canonisation of St. Newman on October 13, 2019 in Rome.
Explore the Writings of St. John Henry Newman
September
St. John Chrysostom

Lived: 349-407 AD
Feast Days: September 13th, January 27
Patronage: Preachers and lecturers; epilepsy

St. John Chrysostom, Doctor of the Church, was born in Antioch in 349. He retired to the hills near the city to live a monastic life as a young man but eventually returned to the city to enter the priesthood. He is famous for the power of his preaching; and justly so. His Easter homily is one of the finest ever delivered:
"Is there anyone who is a devout lover of God? Let them enjoy this beautiful bright festival! Is there anyone who is a grateful servant? Let them rejoice and enter into the joy of their Lord! Are there any weary with fasting? Let them now receive their wages! If any have toiled from the first hour, let them receive their due reward; If any have come after the third hour, let him with gratitude join in the Feast! And he that arrived after the sixth hour, let him not doubt; for he too shall sustain no loss. And if any delayed until the ninth hour, let him not hesitate; but let him come too. And he who arrived only at the eleventh hour, let him not be afraid by reason of his delay."
Though he suffered exile and hardship, joy never fell from his face, and, proclaiming for a final time, "Glory be to God for all things, amen," he returned to the Lord in 407. Butler writes of him thus: "Nothing can be stronger or more tender than the manner in which this saint frequently expresses his charity and solicitude for his spiritual children. When he touches this topic, his words are all fire and flame, and seem to breathe the fervor of St. Peter, the zeal of St. Paul, and the charity of Moses."
Explore the Writings of St. John Chrysostom
August
St. Augustine of Hippo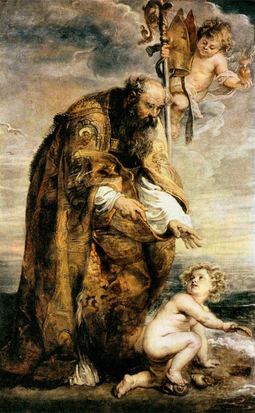 Lived: 354-430 AD
Feast Day: August 28
Patronage: Brewers, printers, theologians

St. Augustine was born in north Africa in 354. His mother, St. Monica, raised him in the faith, but he fell away into vice and Manichaeanism. He was not baptized until adulthood. He describes his dramatic adult conversion in Confessions, perhaps the most beloved and widely read Christian text outside of the Bible. Like the rest of his work, Confessions combines piety with learnedness; it pairs the story of his embracing the Church with a philosophical disquisition on the nature of time and a commentary on the account of creation in Genesis.
He was consecrated bishop in 395 and led the fight against Donatism and other heresies. As he wrote in a letter two years after becoming bishop, "And yet even in the case of a heretic, however puffed up with odious conceit, and insane through the obstinacy of his wicked resistance to truth, although we warn others to avoid him, so that he may not deceive the weak and inexperienced, we do not refuse to strive by every means in our power for his correction."
St. Augustine died in 430. He is the patron saint of brewers because of his fondness for drink and licentiousness before his conversion.
No Father of the Church wrote as much or as widely as did St. Augustine. He closes his City of God thus: "From all who think that I have said either too little or too much, I beg pardon; and those who are satisfied I ask, not to thank me, but to join me in rejoicing and in thanking God. Amen."
Explore the Writings of St. Augustine