Discover the Saint of the Month
Contemplate the legacy of the Church's saints with Verbum.
March
St. Joseph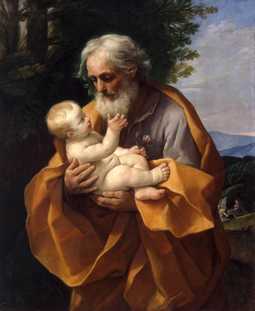 Lived: 90 BC – 18 AD
Feast Days: March 19 and May 1
Patronage: Universal Church, unborn children, fathers, workers, travelers, immigrants, and a happy death

St. Joseph, husband of Mary the mother of Jesus, is one of the Catholic saints about whom we know the least. All we know for certain about St. Joseph is what we find in in Matthew 1 and Luke 2.
Joseph was a descendant of King David and a good man who sought to honor Mary and obey God's instructions. When Herod felt threatened by the birth of "the king of the Jews," Joseph protected Mary and Jesus by escaping to Egypt. And when Herod died, an angel told Joseph it was safe to return to Israel.
We also know that Joseph was a carpenter, and Jesus took on the carpentry trade. Because Joseph doesn't appear after Jesus' visit to the temple at age 12, many people believe Joseph died before Jesus began his public ministry around age 30.
Beyond these biblical facts, there are a few legends concerning Joseph. One is that Jesus and Mary were with Joseph when he died, which is why Joseph is the patron saint of a happy death. Another handed down from St. Jerome is that Joseph was previously married and had children identified throughout the Gospels as Jesus' brothers (Matthew 12:46, Luke 8:19–20, and John 7:3–10, among others).
Despite the lack of Joseph's words recorded in Scripture, we know for certain Joseph was a righteous man who faithfully loved and served Mary and the child Jesus.
Explore the Life of St. Joseph
February
St. Peter Damian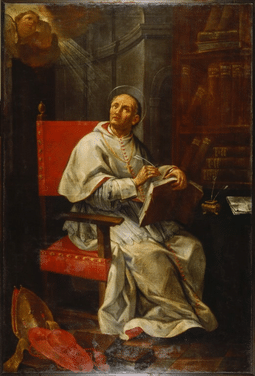 Lived: c. 1007–February 22, 1072
Feast Day: February 21
Patronage: Spiritual warfare, Church reformers, and Faenza, Italy

Born into a noble, but poor family, Peter Damian overcame early hardships at the hands of his own relatives to reach great success in the academic world. He made rapid progress in his studies through his graduation to the University of Parma. By the age of 25, Peter Damian was already renowned for his piety, intellect, and teachings.
Peter Damian became discouraged by the scandals of university and sought the relative solitude of monastic life and joined the church. Despite his seclusion, Peter Damian became well known for his wisdom and was promoted within its ranks. He was instrumental in settling many disputes within the church and helped heal the schisms of the day. Eventually, he was consecrated Cardinal-Bishop of Ostia in 1057.
Peter Damian was a prolific writer, with his theological thinking perhaps best exemplified in his most famous work, De Divina Omnipotentia, a letter addressing the power of God. After returning to Ravenna where he first began his studies, he died in 1073. Though no formal canonization ever took place, Peter Damian rose to sainthood and was pronounced a Doctor of the Church by Pope Leo XII in 1823.
Explore the Writings of St. Peter Damian
January
St. Thomas Aquinas

Lived: 1225–March 7. 1274
Feast Day: January 28
Patronage: Academics, apologists, philosophers, and theologians

One of the most influential philosophers and theologians of all time, St. Thomas Aquinas, is remembered for synthesizing the philosophy of Aristotle with the teachings of the Church. His Summa Theologiae is considered a masterwork of philosophical theology and continues to influence Christian and secular thought on ethics, metaphysics, and political theory.
Within a decade of his escape, Thomas had established a successful academic career within the Order. He began work on his Summa contra Gentiles, an apologetic work countering the teachings of Islam and Judaism. But it would be a later work, the Summa Theologiae, that would solidify his place as one of the Church's greatest thinkers.
Thomas' tireless devotion to the Church is exemplified by his dying words, spoken as he received last rites: "I have written and taught much about this very holy Body, and about the other sacraments in the faith of Christ, and about the Holy Roman Church, to whose correction I expose and submit everything I have written."
Explore the Ideas of St. Thomas Aquinas