Insight from the Tradition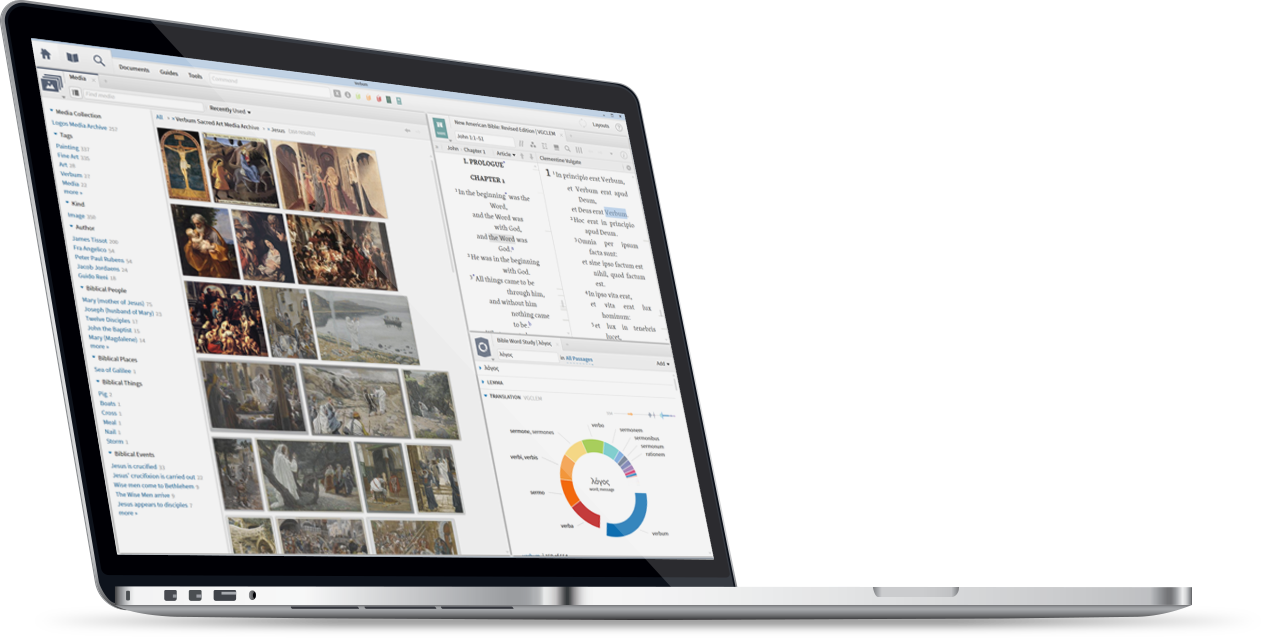 Understand the Tradition
Verbum provides a massive digital library built on powerful research tools. Browse by topic or Bible verse and see what's been said throughout the Church's rich Tradition. Share discoveries with your friends, and discuss your reading with your parish, your classmates, or your family.
Get Verbum 7
Connect Scripture and Tradition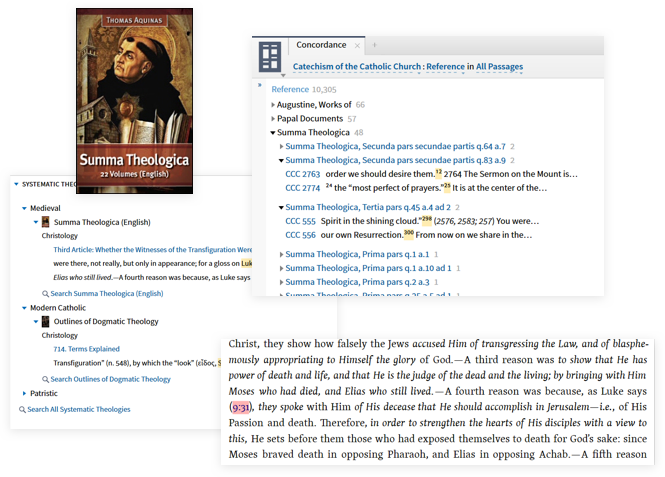 Generate a Concordance to browse the important words and references in your Bible, the Catechism, or any other book in your library, or use our new Passage Guide sections to see topically arranged citations of your passage in works of systematic theology and the creeds and catechisms of the Church.
Get Verbum 7
Advanced Catholic Bible Study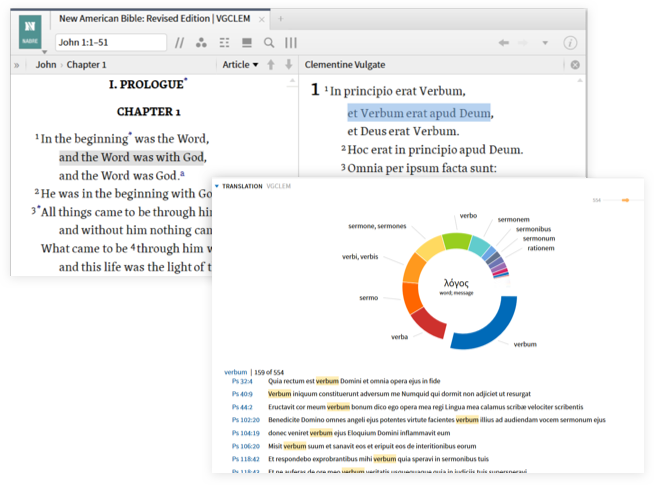 Verbum 7's expanded tagging of the Greek of the deuterocanonical books and new interlinears for the NABRE, RSVCE, and the Latin Vulgate bring the full power of Faithlife's Bible study technology to the whole of Scripture. Connect your favorite English translation back through the Latin of the Vulgate and into the original Greek and Hebrew.
Get Verbum 7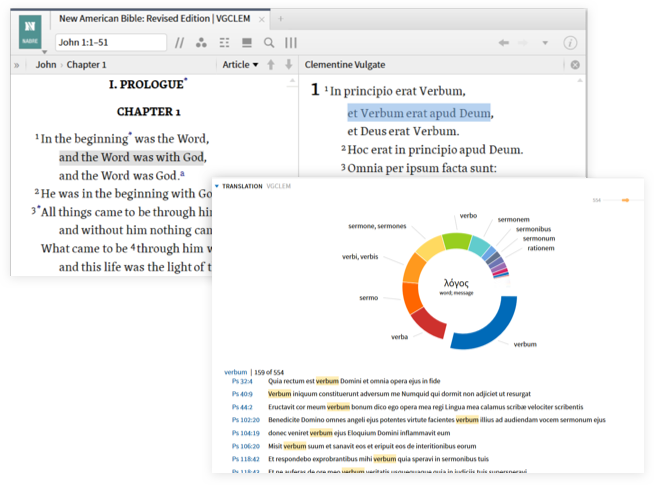 Enter the World of the Bible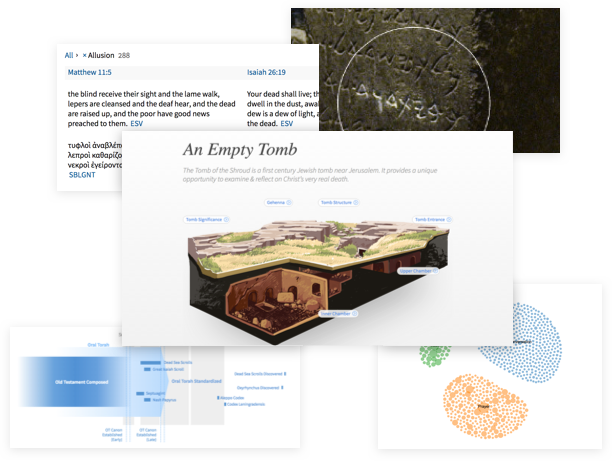 Verbum 7 includes stunning media that brings the world and words of the Bible to new life. Explore a first-century tomb, browse Scripture with innovative, interactive visuals, see how New Testament writers used the Old Testament, and more.
Get Verbum 7
See all features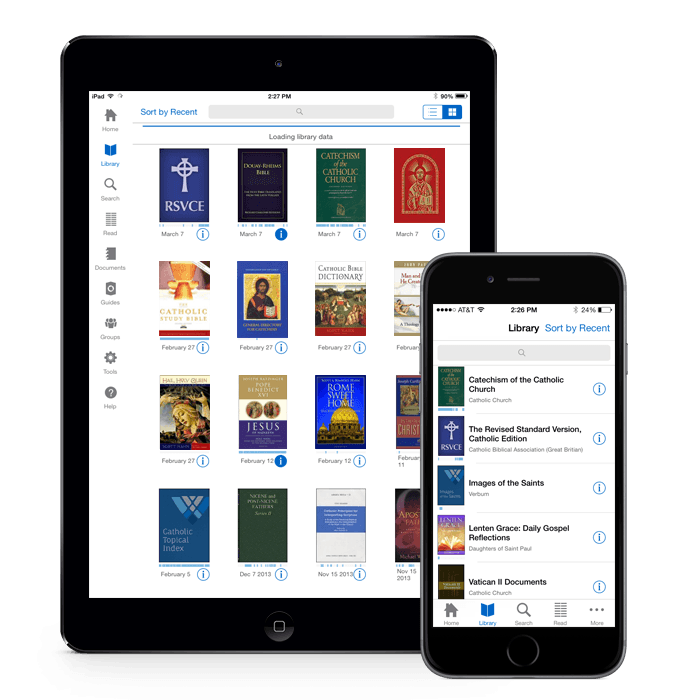 Verbum provides multiple translations of the Bible and the texts of the Tradition in a massive digital Library. Then, our advanced tools let you study all these texts fluidly and intuitively. Find answers in the full context of the Tradition, and see what saints, scholars, and popes have said about a verse or topic. Check out our Topical Index for relevant, curated results.
Get Verbum 7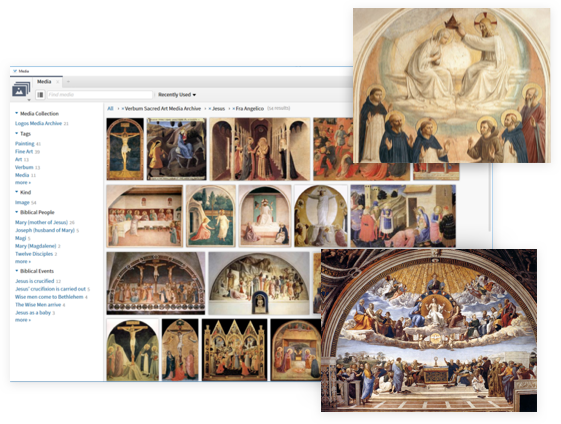 Stunning Artwork
Verbum's Treasury of Sacred Art has been expanded to add 500 new images from artists like Caravaggio, El Greco, and Raphael, and the new Media tool makes it easier than ever to search or browse the Church's artistic heritage for a person, event or reference. (Note: Treasury of Sacred Art, vol. 2 isn't quite finished. It will automatically download to Verbum as soon as it's complete. Also, some images are only available in the Media tool with a Verbum Now membership.)
Study the Tradition visually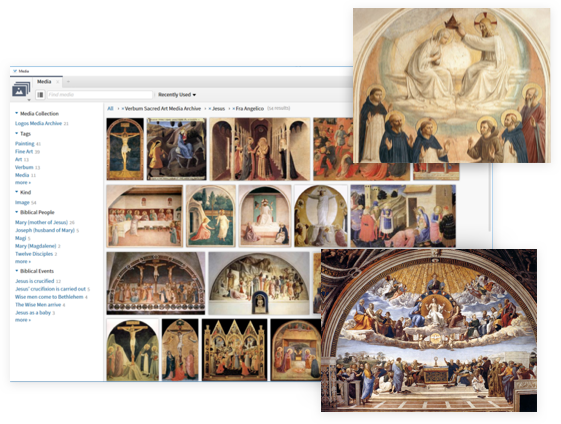 "I use Verbum myself, and I wholeheartedly recommend it to all Catholics who are looking to grow deeper in their faith and understanding."
Dr. Scott Hahn
Author and professor

"Download Verbum and experience Catholic and Bible study like never before. There is no competition for this marvelous program."
Steve Ray
Popular speaker and author

"I use Verbum constantly, I am convinced of its value, and I enthusiastically recommend it to others."
Jimmy Akin
Author and Speaker

"Verbum is an invaluable resource for anyone who is serious about studying the Bible and the great minds of Catholic theology."
Fr. Christian Mathis
Chaplain at ETSU Catholic Center

"Verbum is always thinking ahead and providing opportunities for Christians to engage Christ in His word. I highly recommend it."
Jeff Cavins
President of the Great Adventure Company

"Verbum is not just the premier Bible software today; it's the most powerful scriptural tool in the history of the Church."
Brandon Vogt
Author and speaker

"I highly recommend Verbum for everyone engaged in ministry or studying for it, whether as priests, deacons, or lay ecclesial ministers."
Dr. Peter S. Williamson
Editor of Catholic Commentary on Sacred Scripture

"Nobody I know who has used Verbum has been disappointed. Rather, they have been delighted beyond their expectations."
Al Kresta
Catholic broadcaster, journalist and author

"I highly recommend Verbum to all priests, to those involved in catechesis, and to any Catholic who simply wants to enter more deeply into the Sacred Scriptures and to discover the inexhaustible depths of our Catholic Faith."
Fr. Hezuk Shroff
Parochial vicar at Holy Redeemer Parish in Ottawa, Ontario