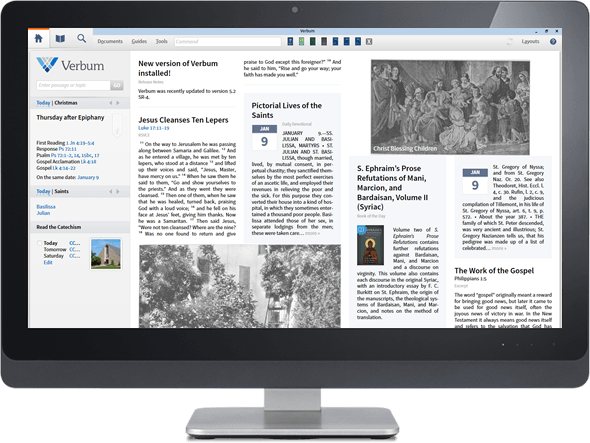 Features
Verbum has dozens of powerful tools and features designed to help you get the most out of your studies. Whether you want to see what the Church Fathers have said about a particular passage, or you're simply curious how the Church treats a given topic, Verbum's features make it easy to study the Faith.
Get Verbum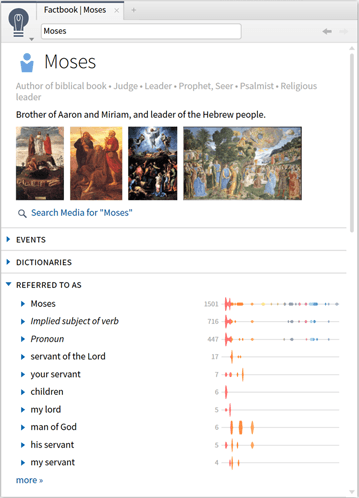 Factbook
Get comprehensive information on biblical people, places, events, and concepts. With over 20,000 entries, Verbum's Factbook contains entries from the ancient world to the modern day. Whether you're studying a topic, tracing the history of the Church, or learning more about a biblical figure, the Factbook gives you answers in seconds.
Learn more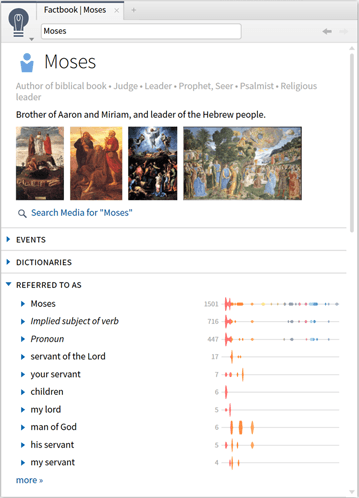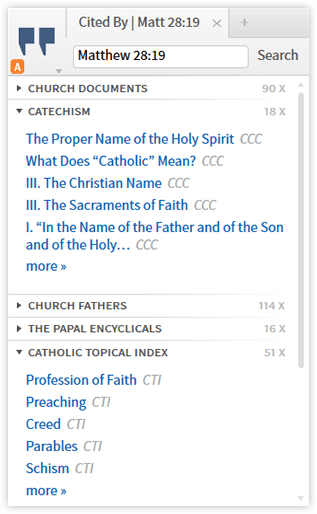 Cited By
When you read books in Verbum, every line links to centuries of Church Tradition. The Cited By tool shows you where any given passage has been cited by other authors in your library. From St. Irenaeus to Pope Pius XII to Hans Urs von Balthazar, the greatest minds from the history of the Church are dynamically applied to your study.
Learn more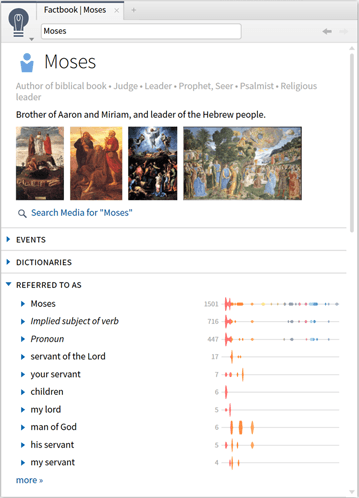 Passage Guide
Verbum makes it easier than ever to understand the depth of Scripture. Open a Passage Guide to see a variety of helpful resources for any scriptural selection. You'll be presented with relevant Catholic topics, commentaries, biblical facts, and selections from the liturgy and Tradition of the Church.
Learn more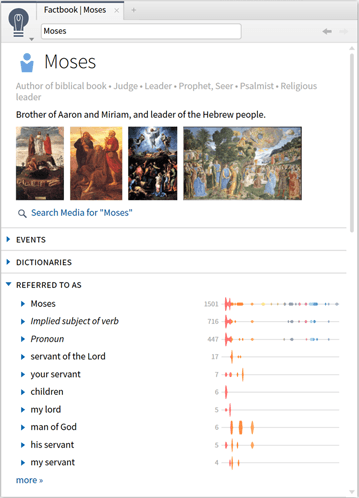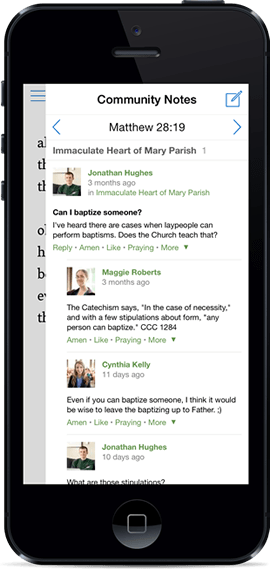 Community
The Catholic Faith cannot be understood apart from community. That's why Verbum gives you tools to stay connected to priests, students, scholars, and the rest of the faithful. Ask questions, share insights, and study with others—within the software, or on Faithlife.com.
Learn more
Everything Search
Verbum's powerful search now finds "everything." From books, to media, to biblical passages, your entire library is just a quick search away.
Visual Copy
Preparing for your next presentation has never been easier. The Visual Copy tool takes text and images and builds attractive slides in seconds.
Ask the Author
Get answers from your favorite authors right within a text. The Ask the Author tool lets you ask questions, share comments, and start discussions about any passage in your Verbum books.
Wikipedia
Verbum now opens Wikipedia links in a dedicated software panel. Take notes, highlight text, and continue your research without leaving the software.
Go Box
Perform detailed searches right from the home page. The Go Box lets you search your entire library for any passage or topic.
Maps and Infographics
Enhance your study with easy-to-understand depictions of information. Verbum comes with hundreds of maps, infographics, and other images to present detailed information in intuitive and informative ways.
Layouts
Verbum allows you to fully customize the layout to suit your needs. Open multiple reading panes to compare texts side by side. Choose which books and resources you see on your home page. Open books and other resources in easy-to-navigate tabs. The best part? You can save each of your layouts to conveniently return to your study at any time, on any computer.
Topic Guide
When you search for a particular topic, Verbum presents you with other places that topic is referenced throughout your library. Key passages connect to relevant people, places, things, and events.
Information Panel
Understand difficult words with one click. The Information Panel shows you the definition of a word, as well as all the ways it's been translated from its original language.
Search Suggestions
Verbum knows what you want to search for before you even finish typing. Learn to perform complex queries by clicking simple suggestions, or let Verbum complete the string you've already begun typing.
Reading Plans
Read books on your own, or with others. Reading plans break Scripture and other resources into manageable sections, allowing you to set reading goals for yourself and your groups.
Ratings
With Verbum, you're connected to a vast community of like-minded scholars and students. See what others are saying about Verbum books and resources, and upload ratings of your own.
Prayer Lists
Keep track of your prayer intentions while you study. Get prayer reminders, and make them the first thing you see on your Verbum homepage.
Community Highlighting
See what other scholars and students find noteworthy. Highlights made by other Verbum users are visible in your library as well.
Basic Search
Quickly search your entire library, or any part of it, for a passage or topic. With Verbum, even the most basic searches give you detailed and relevant results.
Bible Search
Narrow your search to find more detailed information in Scripture. Search within the words of Christ, or search for a particular word in proximity to a specific Bible reference.
Visual Filters
Toggle visual filters to show Timeline flags, speaker tags, notes, and page numbers in your open resources.
Reverse Interlinears
See word-by-word comparisons across translations, and access Strong's numbers, the Bible Sense Lexicon, and Bible Word Study with just a click.
Lifetime License
You'll never have to worry about losing your Verbum books and resources. All your purchases come with a lifetime license that can be used on any of your devices.
Collections
Organize your library with pre-made collections of resources, or make your own to suit your study.
Power Lookup
When you select a verse, Verbum will automatically display every instance where it's referenced across your entire library. See the same verse in other translations, compare it to its original-language source, or see how the Church incorporates Scripture into her liturgy and doctrine. Power Lookup not only presents you with the context of any verse, but also opens up all-new avenues for study.
Lectionaries
Access the daily readings right from the home page. Verbum automatically presents you with links to the current day's readings, which open the powerful Liturgical Layout when clicked.
Graph Search Results
See how many times a given work appears in the Bible (or any of its books), and graph your findings with a click.
Morph Search
Search for original-language words by their lemma, morphological form, or surface form, and narrow your search according to your needs. You can find every instance of every form of λογος, or just specific occurrences of λογιζὸμενος.
Syntax Search
Search for specific original-language words without typing in Greek or Hebrew. No need to know the words' linguistic forms—or even what they're called.
Timeline
See it all, from Genesis to the present day—biblical, Church, and world history. Timeline events link to more information, so you can dig deeper.
Personal Books
Verbum makes it easy to incorporate your own research and writing into your digital library. Once you've added your own work, you can study and reference it with all of Verbum's powerful tools. You'll be able to include your works in any of your collections, and search them alongside your Verbum books.
Clippings
Save and search memorable passages and quotes, along with their citations.
Custom Guides
Create a custom guide that presents search results in categories relevant to you, or tweak Verbum's pre-made passage guide to be more applicable to your study.
Exegetical Guide
Get into the original languages, even if you don't know Greek, Hebrew, or Latin. See a word-by-word breakdown of any biblical passage, and explore lexicons, grammars, sentence diagrams, and audio pronunciations.
Passage Analysis
Analyze details about any passage, including graphs and word comparisons across different translations.
Pronunciation
Learn to pronounce hundreds of biblical Greek words with Verbum's built-in sound clips.
Read Aloud
Hear any Verbum book read aloud in a library that's accessible to you anytime, anywhere.
Keyboard Shortcuts
Create your own keyboard shortcuts, or use Verbum's defaults to make highlighting, bookmarking, and saving documents simple.
Quick Commands
Perform a number of functions from the command bar, or make any of your tools, books, or commands more easily accessible by dragging them to the home page.
Reading View
When all you want to do is read, you can see your book in full screen, distraction-free.
Explorer
Verbum provides you with instant information related to the verse or passage that you're currently reading. The Explorer pane is automatically populated with information about what events are taking place, which people are involved, and any relevant media. It even provides links to cross-references and commentaries, helping you further your study.
Tagging
View verse references on mouseover, open cross-references with a click, and dig deep into the text.
Window Management
Arrange your panels and windows however you like. Verbum's templates help you make the most of your screen; when you find a setup that you like, you can save it or set it as default.
Lookup Tool
Easily look up any word in any book; then right-click to find grammars, encyclopedia articles, and more.
Syncing
Verbum backs up all your resources, notes, and settings. Take your study with you on any computer or mobile device!
Contents Pane
Navigate any resource with a hyperlinked table of contents that's easy to use and never gets in your way.
Tags
Mark resources with custom tags to find, sort, and cite books grouped by your personal categories.
Bibliography
Verbum builds your bibliography for you. Anytime you copy text from one of your resources, Verbum will instantly create a bibliographical citation in your desired format.
Scripture Memory Tool
Learn your favorite passages by heart. Verbum's tools help you memorize any portion of Scripture.
Text Comparison
Compare any number of texts side by side. The Text Comparison tool allows you to view a verse-by-verse comparison of your favored biblical translation. You'll be presented with the degree of difference between each translation, with differences highlighted.
Footnotes
See footnotes by hovering over any in-text footnote indicator, or click through to read the original source within your Verbum library.
Sentence Diagrams
Create new English, Greek, or Hebrew sentence diagrams for your presentation or research paper.
Sermon Starter Guide
Type in a passage or topic and get a smart list of related Scriptures, commentaries, outline suggestions, and more.
Bible Sense Lexicon
Go beyond biblical words—see how meanings relate. The Bible Sense Lexicon connects Greek, Hebrew, and English word senses, so you can discover how specific or general a given term is.
Visual Bookmarks
Leave bookmarks in your text, and keep reading right where you left off.
Right Click Menu
The right-click menu gives you far more options than just copy and paste. It lets you perform word studies, open passage guides, or run searches, all in one convenient place.
Sympathetic Highlighting
Compare original-language selections with ease. Highlighting a biblical passage in one translation will automatically highlight the same passage in the original Greek.
Resource Stats
See stats on all your books. You can tell which books you've completed, which ones are new, which ones you reference most frequently, and more.
Master Your Study of Biblical Languages with a New Verbum 7 Library
Shop Libraries