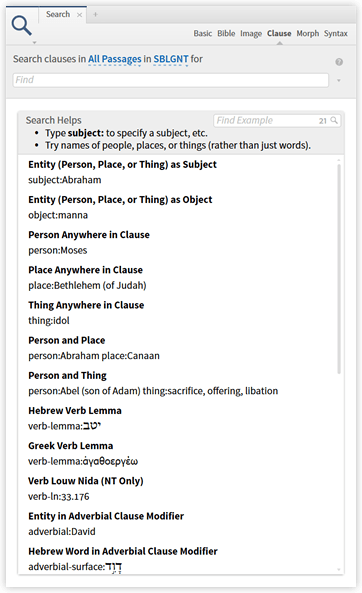 Clause Search
Find exactly what you're looking for. Verbum's smart searches link Scripture's pronouns and phrases to the people, places, and things they refer to.
Search by English, Greek, or Hebrew clause.
Find words based on their lemma or exact form.
Don't miss a single reference to your query.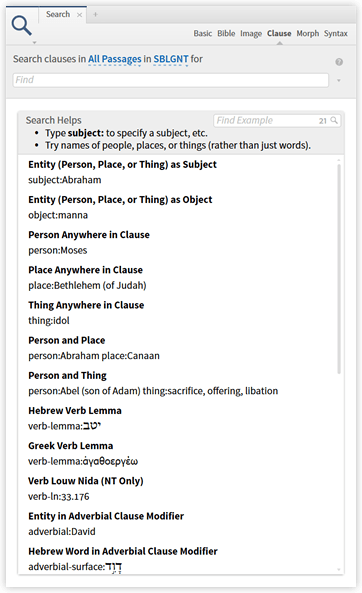 "If you seek it like silver and search for it as for hidden treasures; then you will understand the fear of the LORD and find the knowledge of God."
(Proverbs 2:4—6, RSVCE)
Verbum finds everything
If you did a regular Bible search for "Jesus" and "Bethlehem," you'd get a few results–Matthew 2:1 and John 7:42, for example. But what about Luke 2:11?
For to you is born this day in the city of David a Savior, who is Christ the Lord.
(Luke 2:11 RSVCE)
For to you is born this day in the city of David

[Bethlehem]

a Savior

[Jesus]

, who is Christ the Lord

[Jesus]

.
(Luke 2:11 RSVCE)
This verse doesn't mention Jesus or Bethlehem explicitly, so it won't show up in a traditional search. But Verbum recognizes what this verse is about, so you get smarter search results.
See everything a person does
Run a combined subject search for Peter, James, and John to find where all three do something together, even if they're part of larger groups, like the disciples or the church at Jerusalem.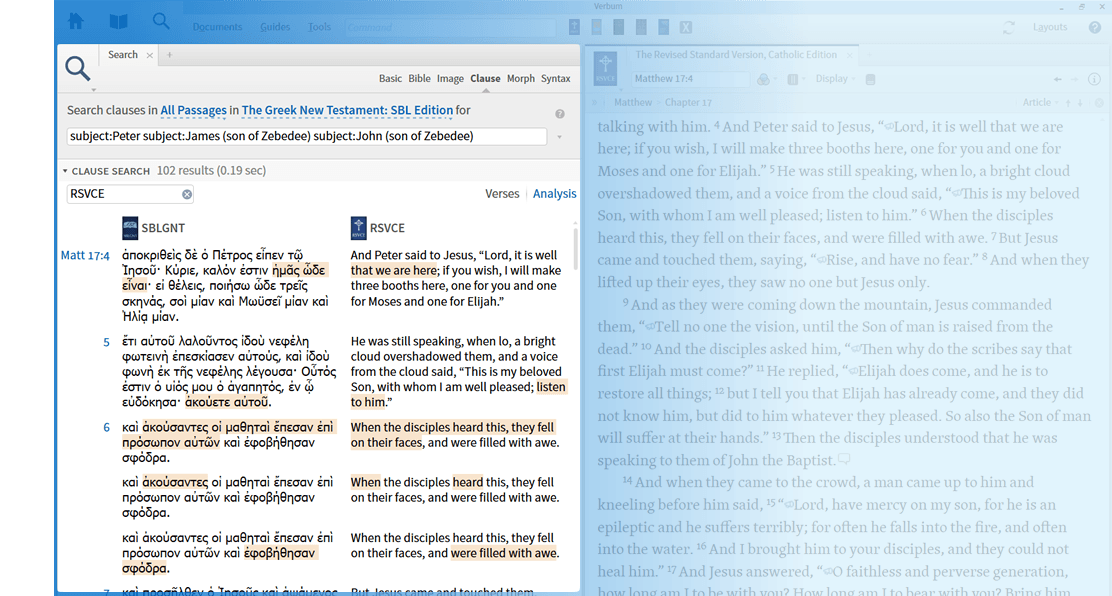 Find specific actions
Type in "subject:Jesus verb:to heal" to find every time that Jesus heals someone. Clause Search finds exactly what you're looking for, so your search results won't get confused with other acts of healing in Jesus' name.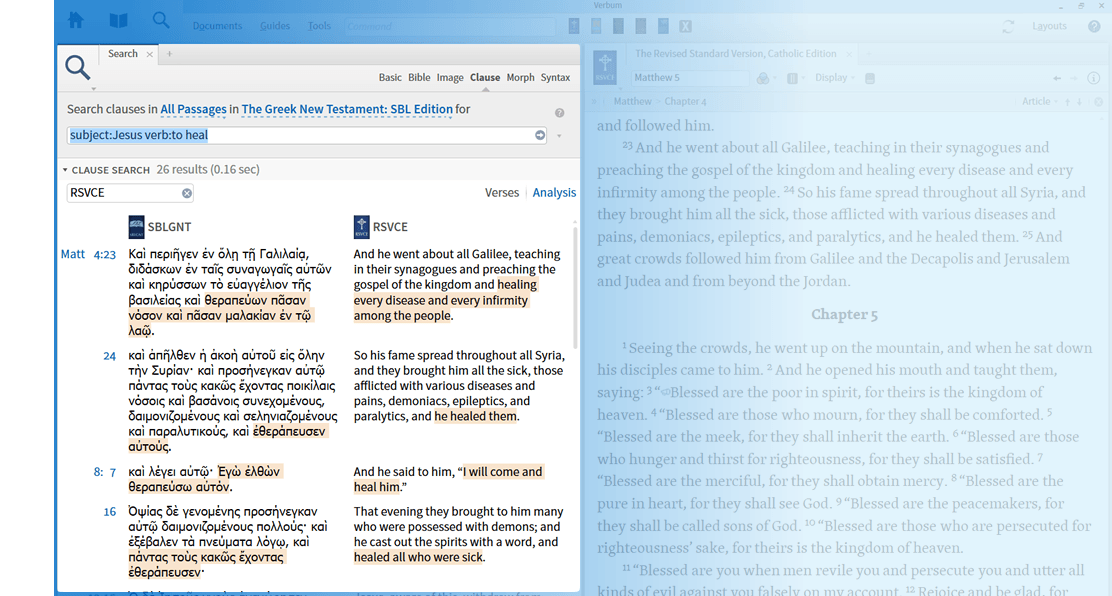 Don't miss a thing
Verbum knows what every biblical word and phrase refers to. Find each mention of Peter, including "Simon," "the rock," and even "the disciples" (in instances where Peter is known to be among them).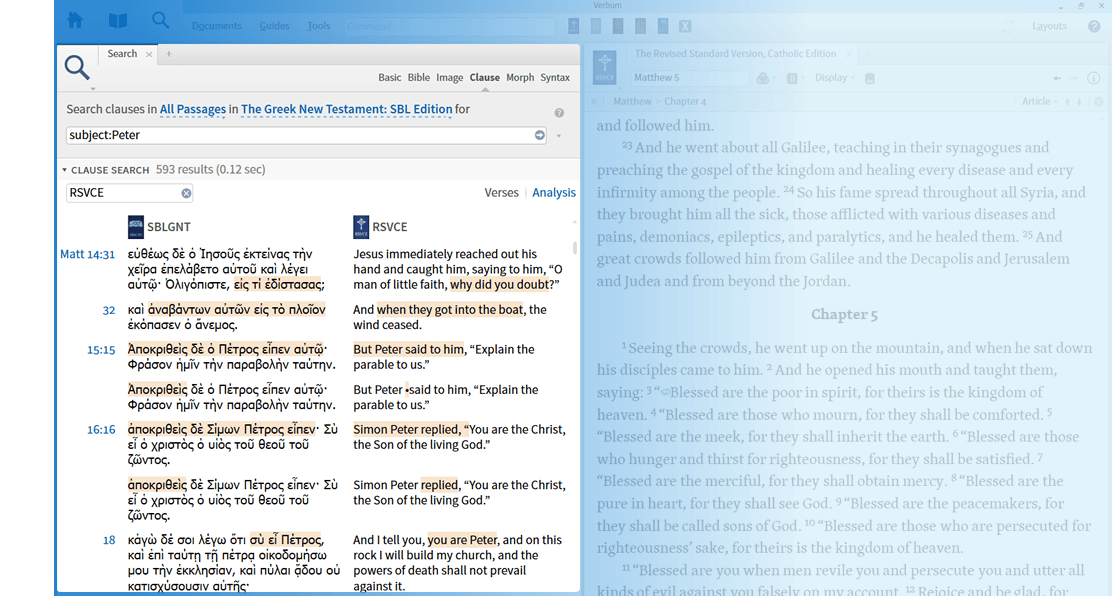 Analyze any clause
More than just a search box, Clause Search works automatically with all your tools. Find the referent or function of any word, in any Bible, from the right-click menu. Additionally, your Bible Word Study and Information Panel show you who is speaking and who is acting in a given passage.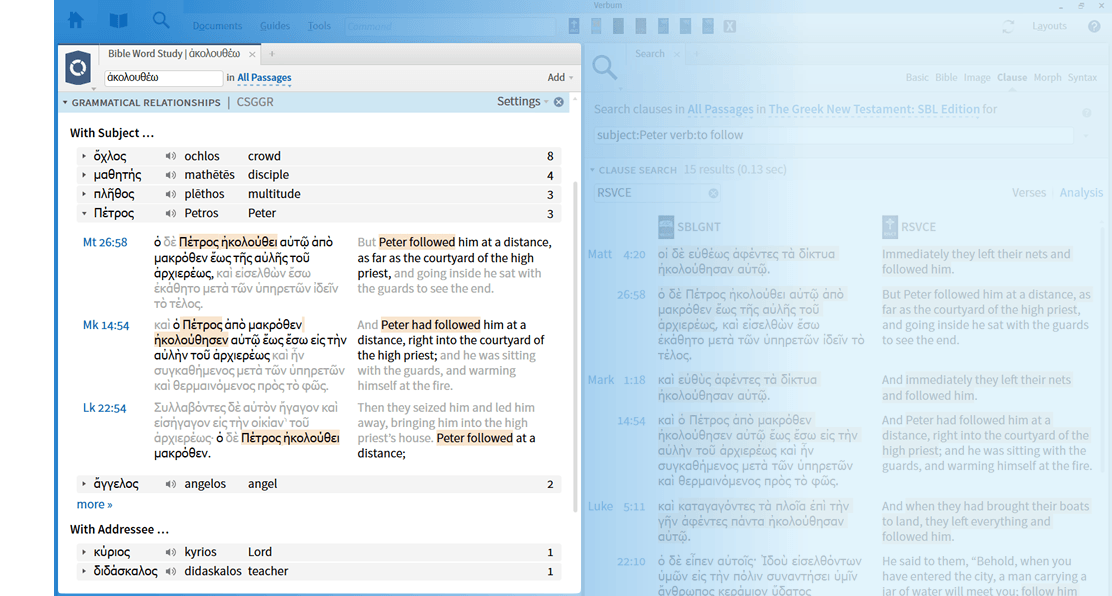 Start studying along with the Church—get a new
Verbum library today
Select a library