Critical Review of Books in Religion 1992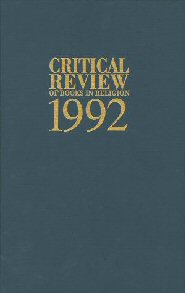 Overview
Critical Review of Books in Religion has two sections. The first section contains more extensive review articles dealing with several books and articles of interest. The second section contains shorter book reviews in several different categories. Reviews in Critical Review embrace books that are cross or multi-disciplinary in nature and that thereby would be of interest to readers in more than one field (e.g., literature and religion, comparative studies, or women and religion) This volume contains two review articles by Gregory Bruce and Richard Wentz. The reviews cover books that fall under such topics as biblical studies, Buddhism, ethics, Judaism, and comparative studies.
Contributors
Eldon Jay Epp
William Scott Green
John J. Collins
James O. Duke
Leo G. Perdue
David M. Scholer
Product Details
Title: Critical Review of Books in Religion 1992
Editor: Eldon Jay Epp
Publisher: Scholars Press
Publication Date: 1992
Pages: 542
About Eldon Jay Epp
Eldon Jay Epp is Harkness Professor of Biblical Literature Emeritus at Case Western Reserve University (Cleveland, Ohio), and the President of the Society of Biblical Literature (2003-2004).
Reviews
What other people are saying about Critical Review of Books in Religion 1992.