Critical Review of Books in Religion 1993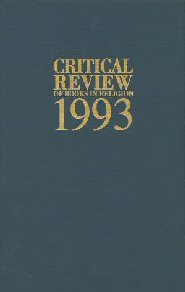 Overview
Critical Review of Books in Religion has two sections. The first section contains more extensive review articles dealing with several books and articles of interest. The second section contains shorter book reviews in several different categories. The three lead articles encompass facets of Japanese religions, East Asian and South East Asian Buddhism, and Hinduism. These were commissioned in an effort to balance the previous preponderance of emphasis on so-called Western religions in Critical Review, both in the articles but especially in the reviews. The range of book reviews includes such topics as medieval Judism, science and religion, native religion and popular religion, or the ancient near east.
Contributors
Eldon Jay Epp
William Scott Green
John J. Collins
James O. Duke
Leo G. Perdue
David M. Scholer
Th. Emil Homerin
Product Details
Title: Critical Review of Books in Religion 1993
Editor: Eldon Jay Epp
Publisher: Scholars Press
Publication Date: 1993
Pages: 627
About Eldon Jay Epp
Eldon Jay Epp is Harkness Professor of Biblical Literature Emeritus at Case Western Reserve University (Cleveland, Ohio), and the President of the Society of Biblical Literature (2003-2004).
Reviews
What other people are saying about Critical Review of Books in Religion 1993.