Anxiety Attacked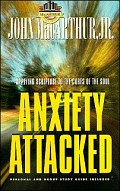 Overview
Anxiety Attacked goes beyond pop psychology's temporary cures by returning us to our only true source of comfort. John MacArthur compassionately demonstrates from such passages as Matthew 6:25–34, Philippians 4:6–9, and 1 Peter 5:5–7 God's concern about our anxious situations, and helps us appropriate His resources for dealing with them calmly, yet effectively.
Product Details
Title: Anxiety Attacked
Author: John MacArthur
Publisher: Thomas Nelson
Publication Date: 1996
Pages: 175
Reviews
What other people are saying about Anxiety Attacked.