The Birth of Planet Earth and the Age of the Universe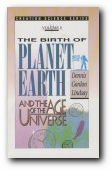 Christ For The Nations
, 1993
Overview
This volume focuses on 30 clocks within nature which testify to creation as a recent event. It exposes the myth of an ancient Earth and explains why Satan has so forcefully propagated this lie.
Contents
Part 1: How Old is the Earth?
Part 2: The Doctrine of Mature Creation
Part 3: Young Earth Clocks
Part 4: Young Universe Clocks
Part 5: Grandfather Time
Part 6: The End of Time and the Coming of the Big Bang
Product Details
Title: The Birth of Planet Earth and the Age of the Universe
Author: Dennis Gordon Lindsay
Publisher: Christ for the Nations
Publication Date: 1999
About Dennis Gordon Lindsay
Dennis Gordon Lindsay is president and CEO of Christ For The Nations. Founded in 1948, CFN continues to build churches (over 12,000 completed), provide free literature (over 60 million in 81 languages), and assist in relief efforts (disasters, orphanages, prisons, hospitals). It prepares and trains world changers (over 35,000 graduates) and networks with CFN Associate Bible Schools (over 40 in 35 countries) to become part of the extreme generation that will go to the edge to evangelize the lost.
Reviews
What other people are saying about The Birth of Planet Earth and the Age of the Universe.