The Necessity of Prayer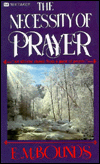 Overview
Bounds considers the basic elements of what makes prayer communion with God: faith, trust, desire, fervency, importunity, character, obedience, vigilance, and the promises of God's Word.
Product Details
Title: The Necessity of Prayer
Author: Edward M. Bounds
Publisher: Baker Book House
Publication Date: 1976
About Edward M. Bounds
Edward M. Bounds was ordained in 1859 as pastor of the Monticellow, Missouri Methodist Church. He became a chaplain during the Civil War and was taken captive during the first battle of Franklin, Tennessee. After the war, he returned to war-ravaged Franklin to help rebuild it spiritually. He was associate editor of the official Methodist newspaper, The Christian Advocate, until he died in 1913.
Reviews
What other people are saying about The Necessity of Prayer.