In His Steps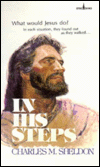 Advance Publishing Co.
, 1899
Overview
Deeply shaken by the appearance of a mysterious stranger in town and his impassioned pleas for the poor and downtrodden, the minister and five influential parishioners begin a year-long experience in Christianity. Each has resolved to conduct his life according to the precepts of Christ, applying His behavior to their own lives.
Product Details
Title: In His Steps
Author: Charles Monroe Sheldon
Publisher: Advance Publishing Co.
Publication Date: 1899
Reviews
What other people are saying about In His Steps.