The New Testament Commentary Vol III: John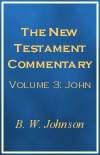 Christian Board of Publication
, 1886
Overview
From the preface: "I have had in view, in writing this Commentary on John, the wants of the ordinary reader, rather than critics, preachers and theologians, and have therefore aimed to write in plain and simple language, avoiding technical phrases and Greek words which would only be intelligible to the learned. While I have endeavored to avail myself of the studies of the great Biblical scholars I have sought to present in a popular form the results of their studies, rather than their methods."
Product Details
Title: The New Testament Commentary Vol III: John
Author: B. W. Johnson
Publisher: Logos Research Systems
Publication Date: 1999
Reviews
What other people are saying about The New Testament Commentary Vol III: John.