All the Questions in the Bible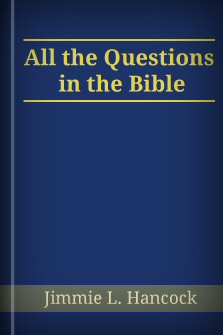 Overview
There are many books with questions about the Bible, but the Bible is filled with its own questions. This compilation of questions is from the King James Version (KJV) of the Bible. You may ask your own question: How can I use these questions? Hopefully, you will be motivated to search the Bible further for the larger context surrounding the questions. For those who preach and teach, the questions could serve as sermon and lesson starters. For general Bible study, a game could be played whereby the questions are asked and players would have to give the context and/or answers.
Product Details
Title: All the Questions in the Bible
Author: Jimmie L. Hancock
Publisher: Jimmie L. Hancock
Publication Date: 1998
Reviews
What other people are saying about All the Questions in the Bible.