Answers to Tough Questions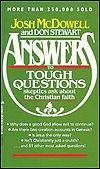 Overview
Here is a wealth of Bible research and point-by-point logic to answer 65 of the toughest questions asked by skeptics—and to show precisely why Christianity stands up to even the toughest scrutiny. For more than 20 years, Josh McDowell has been one of America's most powerful and persuasive defenders of the Christian faith.
Product Details
Title: Answers to Tough Questions
Author: Josh McDowell and Don Douglas Stewart
Publisher: Thomas Nelson
Publication Date: 1993
Reviews
What other people are saying about Answers to Tough Questions.