His Name is Jesus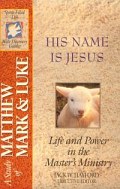 Overview
His name is Jesus focuses on the life of Jesus as seen in Matthew, Mark, and Luke. Emphasizing the importance of applying His words to our lives, you'll explore events and key themes of Christ's earthly ministry as seen in His titles and discover more fully what it means to follow Him as Savior and Lord.
Product Details
Title: His Name is Jesus
Author: Jack W. Hayford
Publisher: Thomas Nelson
Publication Date: 1997
Reviews
What other people are saying about His Name is Jesus.