King James Version Study Bible (KJVSB)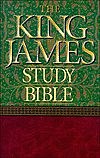 Overview
The most comprehensive KJV study Bible published in 50 years, it is packed with thousands of notes and insights from respected conservative scholars. It includes in-text doctrinal footnotes, personality profiles, archaeological information, special articles, maps, and over 5,700 annotations in a unique format, offering a broad understanding of the Bible and how it relates to the world we live in today.
Please note: These study notes do not come with a Bible text, and may be used with any translation you currently own.
Product Details
Title: King James Version Study Bible (KJVSB)
Publisher: Thomas Nelson
Publication Date: 1988, 1997
Reviews
What other people are saying about King James Version Study Bible (KJVSB).