Illustrated Manners and Customs of the Bible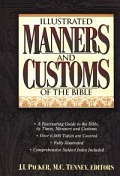 Overview
This encyclopedic guide to the Bible's people, places, manners, customs, and times puts a wealth of information at your fingertips. Forty-five sections cover the people of the Bible and how they lived—from family life, to law, to transportation. Unlock the wonders and mysteries of the Bible with this authoritative resource. Includes over 300 in-text photographs, over 6,000 topics, easy to follow charts, maps, and diagrams, Scripture references, and newly discovered archaeological findings. This is an all-in-one guide to the riches of the Scriptures, both for the experienced and the beginning student of the Bible. Includes a preface by Dr. J. I. Packer.
Product Details
Title: Illustrated Manners and Customs of the Bible
Authors: William White, Merrill Chapin Tenney and J. I. Packer
Publisher: Thomas Nelson
Publication Date: 1995, 1997
Reviews
What other people are saying about Illustrated Manners and Customs of the Bible.