Spirit-Filled Life Study Bible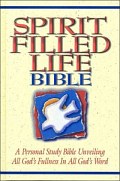 Overview
More than a one-man, one-denomination, or one-emphasis study resource, this Bible unfolds the broad spectrum of Pentecostal and Charismatic teaching. Articles and commentaries are simple to read and understand--clarifying difficult passages and concepts. Special sections include Kingdom Dynamics thematic studies linked throughout the Bible, 500 Word Wealth studies, Truth-in-Action lessons, and thousands of annotations.
Please note: This product does not contain the Bible text, but it does include all the study notes found in the equivalent print version. You can purchase your preferred translation here or in a Logos Bible Software collection. The Spirit-Filled Life Study Bible can be used together with any Bible in your digital library. Just open The Spirit-Filled Life Study Bible and another Bible, then click the "chain link" icon in each resource and select "Set A" for each. (Need Help? Watch a tutorial video!)
Product Details
Title: Spirit-Filled Life Study Bible
Editors: Jack W. Hayford
Publisher: Thomas Nelson
Publication Date: 1991, 1997
Reviews
What other people are saying about Spirit-Filled Life Study Bible.