Appointed to Leadership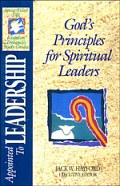 Overview
Learn how to grow more sensitive to the promptings of the Holy Spirit, and how to encourage faith in others. Understand what underpins and guides the spiritual leader commited to being God's instrument.
Product Details
Title: Appointed to Leadership
Authors: Jack W. Hayford and Herman Rosenberger
Publisher: Thomas Nelson
Publication Date: 1994, 1997
Reviews
What other people are saying about Appointed to Leadership.