Milestones To Maturity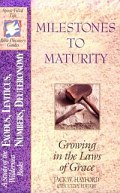 Overview
Milestones to Maturity unveils liberating truths from the story of Israel's wilderness journey that apply to your life today. You will grow spiritually, learn to hear the Spirit's voice more clearly, and gain fresh insight into God's ways with His people.
Product Details
Title: Milestones To Maturity
Author: Jack W. Hayford, Paul McGuire
Publisher: Thomas Nelson
Publication Date: 1997
Reviews
What other people are saying about Milestones To Maturity.