People of the Covenant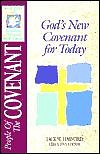 Overview
From the Garden of Eden to the garden in paradise, the Blood of the sacrifice is the constant testimony of God's grace. Learn about the covenants between God and His people and how those covenants are promises of power and holiness for the believer.
Product Details
Title: People of the Covenant
Authors: Jack W. Hayford, Paul McGuire
Publisher: Thomas Nelson
Publication Date: 1997
Reviews
What other people are saying about People of the Covenant.