The Spirit-Filled Family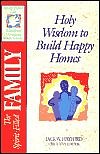 Overview
Just as God's promise of an eternal home raises joy and anticipation, so should our family relationships on earth. This guide offers practical help on building a strong spiritual family that is a comfort and support to each member's walk with God.
Product Details
Title: The Spirit-Filled Family
Authors: Jack W. Hayford, Rebecca Bauer
Publisher: Thomas Nelson
Publication Date: 1997
Reviews
What other people are saying about The Spirit-Filled Family.