Welcoming the Saving Reign of God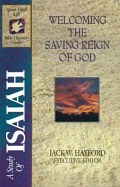 Overview
Welcoming the saving reign of God addresses the major messianic prophecies of Isaiah, pointing to their fulfillment in Jesus Christ. It also emphasizes Isaiah's prophecies of the coming kingdom of God and how they began to be fulfilled in Jesus' ministry. This guide will challenge you to welcome God's saving reign in your life today.
Product Details
Title: Welcoming the Saving Reign of God
Authors: Jack W. Hayford, Joseph Snider
Publisher: Thomas Nelson
Publication Date: 1998
Pages: 303
Reviews
What other people are saying about Welcoming the Saving Reign of God.