In the Footsteps of Faith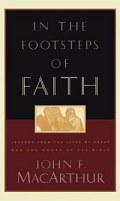 Overview
Although some of the standards by which we should live seem impossible, God not only gave us principles to live by, but also provided us with examples to follow. Dr. MacArthur examines the lives of faithful men and women, showing that a life of faith and victory-a godly life-is more than possible-it's a reality.
Product Details
Title: In the Footsteps of Faith
Author: John MacArthur
Publisher: Crossway Books
Publication Date: 1998
Reviews
What other people are saying about In the Footsteps of Faith.