The MacArthur Study Bible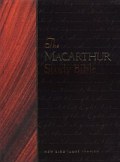 Overview
For thirty years, John MacArthur has spent nearly thirty hours a week studying the Bible, taking detailed notes, and teaching people what he learns. The result is The MacArthur Study Bible. With the MacArthur Study Bible you will have help understanding difficult passages, simplifying complex doctrines, and bridging important culture, geography, history, and language gaps. It can help bring your Bible to life, and what's inside will transform your life. Make The MacArthur Study Bible your study Bible, and unleash God's truth, one verse at a time.
Please note: This product does not contain the Bible text, but does include all the study notes found in the equivalent print version. The study notes featured in this resource are from the New King James Version of the MacArthur Study Bible. You can purchase your preferred translation here or in a Logos Bible Software collection. The MacArthur Study Bible can be used together with any Bible in your digital library. Just open The MacArthur Study Bible and another Bible, then click the "chain link" icon in each resource and select "Set A" for each.
Reviews
What other people are saying about The MacArthur Study Bible.