Word Biblical Commentary, Volume 12: 1 Kings, 2nd ed.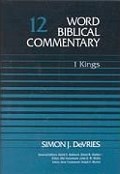 Overview
Gain scholarly insight into the intricacies of both the events and the textual challenges of 1 Kings. Review the succession from David to Solomon, Solomon's reign and puzzling life and chronologies of the Hebrew kings. Study the geo-political context of Israel and the shape of its international relations as it emerges as a regional power and is eventually split into two kingdoms. Simon Devries writes, "The scene is history; the players are kings and prophets; behind the curtain is the Lord of history, challenging his players to make history the scene of salvific revelation."
The Word Biblical Commentary delivers the best in biblical scholarship, from the leading scholars of our day who share a commitment to Scripture as divine revelation. This series emphasizes a thorough analysis of textual, linguistic, structural, and theological evidence. The result is judicious and balanced insight into the meanings of the text in the framework of biblical theology. These widely acclaimed commentaries serve as exceptional resources for the professional theologian and instructor, the seminary or university student, the working minister, and everyone concerned with building theological understanding from a solid base of biblical scholarship.
Product Details
Title: Word Biblical Commentary, Volume 12: 1 Kings, 2nd ed.
Author: Simon J. DeVries
Editor: John D.W. Watts
Edition: 2nd
Series: Word Biblical Commentary
Publisher: Thomas Nelson
Publication Date: 2004
Pages: 376
About Simon J. DeVries
Reviews
What other people are saying about Word Biblical Commentary, Volume 12: 1 Kings, 2nd ed..