Word Biblical Commentary, Volume 6A: Deuteronomy 1–21:9 (Revised Edition)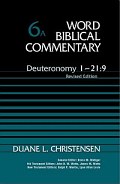 Overview
For centuries the book of Deuteronomy has been studied as a compilation of three sermons followed by three appendices. In his penetrating new study of this fifth book of the Pentateuch, Duane Christensen argues that "Deuteronomy is best explained as a didactic poem, composed to be recited publicly to music in ancient Israel within a liturgical setting." Christensen calls readers to understand Deuteronomy not only as an ancient code of Hebraic law but rather as "a work of extraordinary literary coherence, poetic beauty, and political sophistication." Christensen's fresh look at this ancient book immerses the reader in a probing analysis of the literary, theological, and social issues in the world of Moses' day. Organized for easy reference, Word Biblical commentaries make an ideal companion for your Bible study whether you are studying a single passage or a complete biblical book.
The Word Biblical Commentary delivers the best in biblical scholarship, from the leading scholars of our day who share a commitment to Scripture as divine revelation. This series emphasizes a thorough analysis of textual, linguistic, structural, and theological evidence. The result is judicious and balanced insight into the meanings of the text in the framework of biblical theology. These widely acclaimed commentaries serve as exceptional resources for the professional theologian and instructor, the seminary or university student, the working minister, and everyone concerned with building theological understanding from a solid base of biblical scholarship.
Product Details
Title: Word Biblical Commentary, Volume 6a: Deuteronomy 1:1–21:9, 2nd ed.
Author: Duane L. Christensen
Editor: John D.W. Watts
Edition: 2nd
Series: Word Biblical Commentary
Publisher: Thomas Nelson
Publication Date: 2001
Pages: 576
About Duane L. Christensen
Duane L. Christensen is professor of biblical studies and ancient Near Eastern History at William Carey International University. He is the author of Anchor Yale Bible: Nahum.
Reviews
What other people are saying about Word Biblical Commentary, Volume 6A: Deuteronomy 1–21:9 (Revised Edition).