Word Biblical Commentary, Volume 16: Ezra, Nehemiah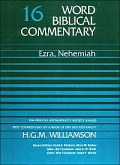 Overview
Based on years of intensive study and research, this commentary provides competent guidance to the complexities of Ezra and Nehemiah. The author gives special attention to the perplexing problems associated with their form, structure, and literary history. Supporting the view that much of this material is from the fifth century BC, just as it claims to be, he concludes that "there is good reason to approach Ezra and Nehemiah as two parts of single work and that this work is to be regarded as complete as it stands." Williamson also focuses on sections of these books commonly referred to as the "Ezra Memoir" and the "Nehemiah Memoir." He notes the specifically theological purpose of such sections, in which the rebuilding of Jerusalem and the Temple are defended against the enemies, and the leaders of Israel plead for recognition of their faithfulness to the commission given them by God through the Persian kings.
The Word Biblical Commentary delivers the best in biblical scholarship, from the leading scholars of our day who share a commitment to Scripture as divine revelation. This series emphasizes a thorough analysis of textual, linguistic, structural, and theological evidence. The result is judicious and balanced insight into the meanings of the text in the framework of biblical theology. These widely acclaimed commentaries serve as exceptional resources for the professional theologian and instructor, the seminary or university student, the working minister, and everyone concerned with building theological understanding from a solid base of biblical scholarship.
Product Details
Title: Word Biblical Commentary, Volume 16: Ezra, Nehemiah
Author: H.G.M. Willamson
Editor: John D.W. Watts
Series: Word Biblical Commentary
Publisher: Thomas Nelson
Publication Date: 1985
Pages: 472
About H. G. M. Willamson
Reviews
What other people are saying about Word Biblical Commentary, Volume 16: Ezra, Nehemiah.