Word Biblical Commentary, Volume 47a: Hebrews 1–8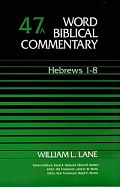 Overview
Winner of Christianity Today's 1993 Critic's Choice Award, this commentary provides an interpretation of the book of Hebrews in conversation with the rapidly growing body of scholarly literature. Acknowledging that many issues such as authorship and provenance remain open, William Lane examines the evidence available and makes a compelling case for his reading of the book and its historical background.
The Word Biblical Commentary delivers the best in biblical scholarship, from the leading scholars of our day who share a commitment to Scripture as divine revelation. This series emphasizes a thorough analysis of textual, linguistic, structural, and theological evidence. The result is judicious and balanced insight into the meanings of the text in the framework of biblical theology. These widely acclaimed commentaries serve as exceptional resources for the professional theologian and instructor, the seminary or university student, the working minister, and everyone concerned with building theological understanding from a solid base of biblical scholarship.
Product Details
Title: Word Biblical Commentary, Volume 47a: Hebrews 1–8
Author: William L. Lane
Editor: Ralph P. Martin
Series: Word Biblical Commentary
Publisher: Thomas Nelson
Publication Date: 1991
Pages: 372
About William L. Lane
Reviews
What other people are saying about Word Biblical Commentary, Volume 47a: Hebrews 1–8.