Word Biblical Commentary, Volume 17: Job 1–20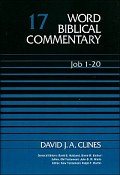 Overview
Learn how every element of Job is an essential element in the weaving of a literary and theological masterpiece. Examine the enigmatic origins and context of Job, its textual tradition, its complex structural relationships, and keys to its elegant poetry. This volume never loses sight of the big picture or the details. It constantly surveys the progress of Job, unravels the identity of its characters, and attempts to identify the distinctive viewpoints of the book's speakers. The textual notes, which center on explaining why the English versions of Job differ so amazingly from one another, support the author's carefully worded translation.
The Word Biblical Commentary delivers the best in biblical scholarship, from the leading scholars of our day who share a commitment to Scripture as divine revelation. This series emphasizes a thorough analysis of textual, linguistic, structural, and theological evidence. The result is judicious and balanced insight into the meanings of the text in the framework of biblical theology. These widely acclaimed commentaries serve as exceptional resources for the professional theologian and instructor, the seminary or university student, the working minister, and everyone concerned with building theological understanding from a solid base of biblical scholarship.
Product Details
Title: Word Biblical Commentary, Volume 17: Job 1–20
Author: David J.A. Clines
Editor: John D.W. Watts
Series: Word Biblical Commentary
Publisher: Thomas Nelson
Publication Date: 1989
Pages: 501
About David J. A. Clines
Reviews
What other people are saying about Word Biblical Commentary, Volume 17: Job 1–20.