Semeia 1: A Structuralist Approach to the Parables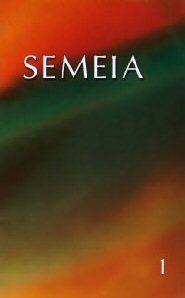 Society of Biblical Literature
, 1974
Overview
Semeia is an experimental journal devoted to the exploration of new and emergent areas and methods of biblical criticism. Studies employing the methods, models, and findings of linguistics, folklore studies, contemporary literary criticism, structuralism, social anthropology, and other such disciplines and approaches, are invited. Although experimental in both form and content, Semeia proposes to publish work that reflects a well defined methodology that is appropriate to the material being interpreted.
Key Features
Key perspectives on biblical criticism
Includes bibliographies and index
Contributors
John Dominic Crossan
Robert W. Funk
Norman R. Petersen
Dan O. Via, Jr.
Amos N. Wilder
Product Details
Title: Semeia 1: A Structuralist Approach to the Parables
Editor: Robert W. Funk
Publisher: Society of Biblical Literature
Publication Date: 1974
Pages: 278
About Robert W. Funk
Robert W. Funk is founder of the Jesus Seminar and Director of the Westar Institute in Santa Rosa, California. He has been a distinguished leader in biblical scholorship for more than thirty years. A Guggenheim Fellow and Fulbright Senior Scholar, he is the author of a dozen books, including Honest to Jesus and The Five Gospels.
Reviews
What other people are saying about Semeia 1: A Structuralist Approach to the Parables.