Semeia 10: Narrative Syntax: Translation and Reviews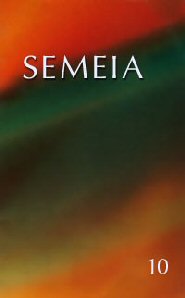 Society of Biblical Literature
, 1976
Overview
Semeia is an experimental journal devoted to the exploration of new and emergent areas and methods of biblical criticism. Studies employing the methods, models, and findings of linguistics, folklore studies, contemporary literary criticism, structuralism, social anthropology, and other such disciplines and approaches, are invited. Although experimental in both form and content, Semeia proposes to publish work that reflects a well defined methodology that is appropriate to the material being interpreted.
Key Features
Key perspectives on biblical criticism
Includes bibliographies and index
Contributors
Claude Bremond
Robert Detweiler
Brian W. Kovacs
Edgar V. McKnight
Daniel Patte
Vladimir Propp
Product Details
Title: Semeia 10: Narrative Syntax: Translation and Reviews
Editor: John Dominic Crossan
Publisher: Society of Biblical Literature
Publication Date: 1976
Pages: 156
About John Dominic Crossan
John Dominic Crossan, professor emeritus at DePaul University, is widely regarded as the foremost historical Jesus scholar of our time. He is the author of several bestselling books, including The Historical Jesus and Jesus: A Revolutionary Biography. He lives in Minneola, Florida.
Reviews
What other people are saying about Semeia 10: Narrative Syntax: Translation and Reviews.