George Müller of Bristol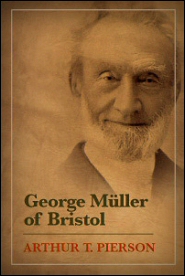 Overview
Arthur T. Pierson's biography of George Müller was one of the first to appear after Müller's death. Pierson wrote it in order to update Müller's own 4-volume autobiography. Where Müller's autobiography is written in chronological order, Pierson's biography is arranged topically, examining the broad themes and spiritual principles of Müller's life. This illustrated volume also contains an introduction by Müller's son-in-law, James Wright.
Key Features
Topical biography of Müller's life and ministry
All Scripture references linked to the Bibles in your library
Product Details
Title: George Müller of Bristol
Author: Arthur T. Pierson
Publisher: London: J. Nisbet & Co.
Publication Date: 1899
Pages: 375
Sample Pages from the Print Edition
Reviews
What other people are saying about George Müller of Bristol.