The Call of the King: The Words of Jesus in the Gospel of Matthew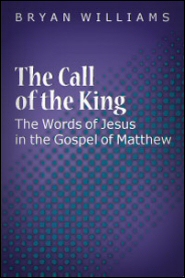 Overview
The Call of the King is straight-forward. It deals with real life. It is intended to inform and challenge readers with the word of Jesus in a format helpful both to individuals and to Bible study groups. In this volume, Williams addresses the most important questions on the book of Matthew: What did our Lord Jesus Christ say? What does he want his followers to understand? To do? Most importantly—to be? The Call of the King consists of thirty-three studies based on Jesus' major addresses as Matthew records them. Each study begins with one or two preparatory ideas; then proceeds in a question-and-answer format.
Key Features
Thirty-six studies on Jesus' major addresses as recorded by Matthew
Thought-provoking questions for individual reflection or group discussion
All Scripture references linked to the Bibles in your digital library
Product Details
Title: The Call of the King: The Words of Jesus in the Gospel of Matthew
Author: Bryan Williams
Publisher: Logos Bible Software
Publication Date: 2009
Pages: 71
About Bryan Williams
Bryan Williams was born and raised in Nelson, New Zealand. In 1958, he moved to England to attend London Bible College. In 1962, Williams gained a B.D. from the University of London and an ALBC diploma from London Bible College. At the invitation of the Bible Institute of South Africa, he began lecturing there in 1970, and held various positions there. In 1977, he completed his Ph.D. through the Universities of Cape Town and Stellenbosch. For years, he has led home Bible studies and served in various church committees. He has written numerous books, and has devoted his life to developing tools to help people study the Bible more fruitfully. Bryan and his wife, Barbara, live in Cape Town, South Africa.
Reviews
What other people are saying about The Call of the King: The Words of Jesus in the Gospel of Matthew.