Before Abraham Was…: Bible Studies Based on John chapters 1 to 11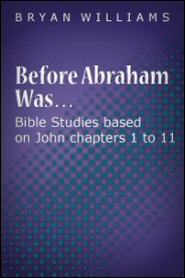 Overview
The Gospel of John inspired the makers of the creeds and confessions. Its simple, vivid, and memorable words and phrases capture the essence of the Son of God: "In the beginning was the Word, and the Word was with God, and the Word was God." "For God so loved the world that he gave his only Son…"
In these and other verses, we find a Gospel packed with rich wisdom, deep insights, and profound theological truth about the nature and person of Jesus Christ. This study guide concentrates on John 1–11, which cover Jesus' public ministry.
Key Features
Introduction to the section of the Bible covered
Background information on the text and extensive contextual data
Thought-provoking questions for individual reflection or group discussion
All Scripture references linked to the Bibles in your digital library
Product Details
Title: Before Abraham Was…: Bible Studies Based on John chapters 1 to 11
Author: Bryan Williams
Publisher: Logos Bible Software
Publication Date: 2009
Pages: 39
About Bryan Williams
Bryan Williams was born and raised in Nelson, New Zealand. In 1958, he moved to England to attend London Bible College. In 1962, Williams gained a B.D. from the University of London and an ALBC diploma from London Bible College. At the invitation of the Bible Institute of South Africa, he began lecturing there in 1970, and held various positions there. In 1977, he completed his Ph.D. through the Universities of Cape Town and Stellenbosch. For years, he has led home Bible studies and served in various church committees. He has written numerous books, and has devoted his life to developing tools to help people study the Bible more fruitfully. Bryan and his wife, Barbara, live in Cape Town, South Africa.
Reviews
What other people are saying about Before Abraham Was…: Bible Studies Based on John chapters 1 to 11.