Semeia 65: Orality and Textuality in Early Christian Literature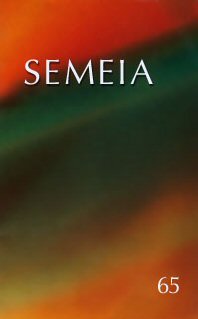 Society of Biblical Literature
, 1995
Overview
Semeia is an experimental journal devoted to the exploration of new and emergent areas and methods of biblical criticism. Studies employing the methods, models, and findings of linguistics, folklore studies, contemporary literary criticism, structuralism, social anthropology, and other such disciplines and approaches, are invited. Although experimental in both form and content, Semeia proposes to publish work that reflects a well defined methodology that is appropriate to the material being interpreted.
Key Features
Key perspectives on biblical criticism
Includes bibliographies and index
Contributors
Thomas E. Boomershine
Arthur J. Dewey
Joanna Dewey
John Miles Foley
Martin S. Jaffee
Werner H. Kelber
Vernon K. Robbins
Bernard Brandon Scott
Richard F. Ward
Antoinette Clark Wire
Product Details
Title: Semeia 65: Orality and Textuality in Early Christian Literature
Editor: Joanna Dewey
Publisher: Society of Biblical Literature
Publication Date: 1994
Pages: 218
About Joanna Dewey
Joanna Dewey is the Harvey Guthrie, Jr. Professor Emerita of Biblical Studies and Former Academic Dean at the Episcopal Divinity School, Cambridge, Mass. She is the author of Disciples of the Way: Mark on Discipleship and Markan Public Debate.
Reviews
What other people are saying about Semeia 65: Orality and Textuality in Early Christian Literature.