Semeia 71: Textual Determinacy, Part 2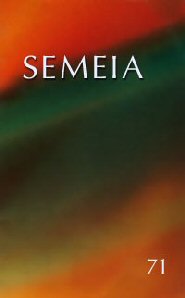 Society of Biblical Literature
, 1997
Overview
Semeia is an experimental journal devoted to the exploration of new and emergent areas and methods of biblical criticism. Studies employing the methods, models, and findings of linguistics, folklore studies, contemporary literary criticism, structuralism, social anthropology, and other such disciplines and approaches, are invited. Although experimental in both form and content, Semeia proposes to publish work that reflects a well defined methodology that is appropriate to the material being interpreted.
Key Features
Key perspectives on biblical criticism
Includes bibliographies and index
Contributors
David J. A. Clines
Ole Davidsen
Michael V. Fox
Ian H. Henderson
Edith M. Humphrey
Stuart Lasine
Dennis Ronald MacDonald
Dennis T. Olson
Gary A. Phillips
Robert B. Robinson
Hugh C. White
Product Details
Title: Semeia 71: Textual Determinacy, Part 2
Editors: Stephen Edward Robinson and Robert C. Culley
Publisher: Society of Biblical Literature
Publication Date: 1997
Pages: 213
About Stephen Edward Robinson
Stephen Edward Robinson teaches religion at Brigham Young University and was appointed chairman of the Department of Ancient Scripture. He is author of Believing Christ.
Reviews
What other people are saying about Semeia 71: Textual Determinacy, Part 2.