Semeia 76: Race, Class and the Politics of Biblical Translation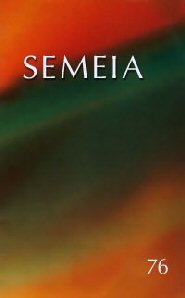 Society of Biblical Literature
, 1998
Overview
Semeia is an experimental journal devoted to the exploration of new and emergent areas and methods of biblical criticism. Studies employing the methods, models, and findings of linguistics, folklore studies, contemporary literary criticism, structuralism, social anthropology, and other such disciplines and approaches, are invited. Although experimental in both form and content, Semeia proposes to publish work that reflects a well defined methodology that is appropriate to the material being interpreted.
Key Features
Key perspectives on biblical criticism
Includes bibliographies and index
Contributors
Randall C. Bailey
Angelika Bammer
Robert P. Carroll
Frances Fite
Edward L. Greenstein
Hisako Kinukawa
Madeline McClenney-Sadler
Samuel Pagén
Abraham Smith
R.S. Sugirtharajah
Dolores Yilibuw
Product Details
Title: Semeia 76: Race, Class and the Politics of Biblical Translation
Editors: Randall C. Bailey and Tina Pippin
Publisher: Society of Biblical Literature
Publication Date: 1998
Pages: 176
About the Editors
Randall C. Bailey is Andrew W. Mellon Professor of Hebrew Bible at Interdenominational Theological Center. He is the author of David in Love and War: The Pursuit of Power in 2 Samuel 10-13.
Tina Pippin is Associate Professor of Religion at Agnes Scott College in Decatur, Georgia. She is the author of Apocalyptic Bodies: The Biblical End of the World in Text and Image.
Reviews
What other people are saying about Semeia 76: Race, Class and the Politics of Biblical Translation.