Semeia 82: In Search of the Present: The Bible through Cultural Studies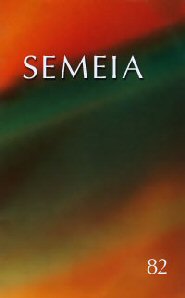 Society of Biblical Literature
, 2000
Overview
Semeia is an experimental journal devoted to the exploration of new and emergent areas and methods of biblical criticism. Studies employing the methods, models, and findings of linguistics, folklore studies, contemporary literary criticism, structuralism, social anthropology, and other such disciplines and approaches, are invited. Although experimental in both form and content, Semeia proposes to publish work that reflects a well defined methodology that is appropriate to the material being interpreted.
Key Features
Key perspectives on biblical criticism
Includes bibliographies and index
Contributors
Alice Bach
Fiona C. Black
Roland Boer
Brenda E. Brasher
Ralph Broadbent
Laura E. Donaldson
Andrew C. Dowsett
Jennifer A. Glancy
Richard Griffiths
Stephen D. Moore
Erin Runions
Yvonne M. Sherwood
Product Details
Title: Semeia 82: In Search of the Present: The Bible through Cultural Studies
Editor: Stephen D. Moore
Publisher: Society of Biblical Literature
Publication Date: 2000
Pages: 320
About Stephen D. Moore
Stephen D. Moore is Professor of New Testament at Drew Theological School and author, editor, and coeditor of many books, including Literary Criticism and the Gospels; Poststructuralism and the New Testament; God's Beauty Parlor and Other Queer Spaces in and around the Bible; and The Bible in Theory.
Reviews
What other people are saying about Semeia 82: In Search of the Present: The Bible through Cultural Studies.