The Flow of the New Testament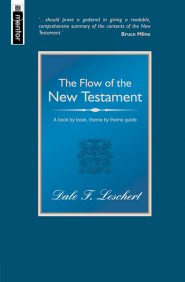 Overview
Want a quick way of investigating a New Testament book or maybe a detailed study? Now you can have both! Dale Leschert has put together an amazing and unique resource that will help everyone understand the New Testament. Each biblical book is outlined and described, and its connections with the rest of the New Testament detailed. Each book has a summary page of background detail and there are many information boxes, charts, and maps to illustrate the text.
Key Features
Detailed information, maps, and charts
All Scripture references linked to original language texts and English translations
Praise for the Print Edition
Dale combines the insights of a scholar with the communicative skills of a pastor-teacher. . . a comprehensive, flowing summary of each New Testament book.
—Mark Johnston, Senior Pastor, Proclamation Presbyterian Church, Bryn Mawr, Pennsylvania
a fine book... Very helpful, detailed outlines are provided for each book and they unfailingly take the reader to the heart of the matter. Readers will acquire a sense of the flow of the New Testament, just as the title suggests. I know of no book that accomplishes this task as effectively as Dr. Leschert's and I am happy to recommend it.
—Donald A. Hagner, George Eldon Ladd Professor Emeritus of New Testament and Senior Professor of New Testament at Fuller Theological Seminary
No other title covers the ground occupied by Dr. Leschert's work.
—Bruce Milne, Author and Conference Speaker
Product Details
Title: The Flow of the New Testament
Author: Dale Leschert
Publisher: Christian Focus Publications
Publication Date: 2006
Pages: 250
About Dale Leschert
Dale Leschert is an academic researcher and contributor to the Eerdman's Dictionary of the Bible.
Reviews
What other people are saying about The Flow of the New Testament.