Josephus: A Unique Witness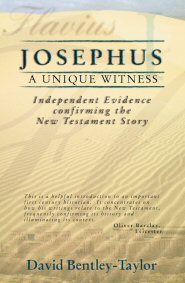 Overview
Josephus lived in Jerusalem during most of the events described in the Acts of the Apostles. Josephus—although not a Christian himself—was familiar with both John the Baptist and Jesus. Josephus describes in great detail the struggle between the Romans and the Jews in which Josephus himself played a significant role.
The historical work of Josephus confirms much of what the New Testament tells us about the social and political conditions in the first-century. More than twenty of the prominent people mentioned in the first five books of the New Testament figure on a greater scale in the histories of Josephus, from Herod the Great to Felix and Festus, including such women as Herodias, Bernice, and Drusilla. Josephus's works are an important companion to any study of the New Testament.
Key Features
Includes maps and charts
All Scripture references linked to original language texts and English translations
Praise for the Print Edition
Flavius Josephus was a first-century Jew who sided with Rome and spent the last period of his life writing history. David Bentley-Taylor has done an excellent job in reviewing the works of Josephus and particularly bringing to our attention the points at which Josephus's account touches on the background to the NT an incidents we find there. He relates the lives of the Herods, the destruction of Jerusalem and gives information about places and customs we know from our Bibles. There is a most helpful Scripture index as well as a subject index.
—Evangelicals Now
Product Details
Title: Josephus: A Unique Witness
Author: David Bentley-Taylor
Publisher: Christian Focus Publications
Publication Date: 2000
Pages: 144
About David Bentley-Taylor
David Bentley-Taylor was Traveling Secretary of the International Fellowship of Evangelical Students (I.F.E.S.) for many years. He has written biographies of Augustine and Henry Martyn.
Reviews
What other people are saying about Josephus: A Unique Witness.