Different by Design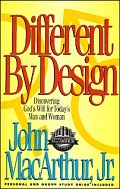 Overview
Almost without notice, our homes and churches have become the newest laboratory for sex-role experimentation. Lured by the world's acceptance and a national obsession with fairness, we've replaced the once-clear biblical boundaries between men and women with a confusing, frighteningly secular hybrid. Dr. MacArthur helps the reader discover and understand the beauty, balance, and benefits of God's unique role for men and women in the home and church family.
Product Details
Title: Different By Design
Author: John MacArthur
Publisher: Thomas Nelson
Publication Date: 1994
Reviews
What other people are saying about Different by Design.