Hebrew Syntax (Third Edition)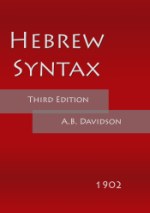 Overview
From the Preface
The main principles of Syntax are printed in larger type, and the less common, poetical or anomalous, usages thrown into the form of notes. The illustrative examples, at least the earlier ones in each case, have been taken as much as possible from the classical prose, but references have been multiplied, partly in order that the principle illustrated may be seen in various connexions, and partly under the impression that the references might be useful in forming exercises for Prose Composition; and the purposes of composition have been had in view in the form given to a number of the sections.
Several points in Syntax are still involved in some obscurity, such as the use of the Imperfect, and its interchange with other tenses, especially in poetry; and the use of the Jussive, particularly in later writings. What has been said on these points, if it do nothing more, will make intelligible the state of the question regarding them.
Product Details
Title: Hebrew Syntax (Third Edition)
Author: A. B. Davidson
Publisher: Logos Research Systems
Publication Date: 1902
Reviews
What other people are saying about Hebrew Syntax (Third Edition).