Westcott and Hort Greek New Testament (1881) with Morphology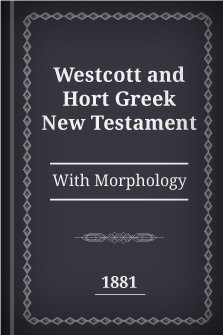 Overview
According to Bruce M. Metzger, this edition was "the most noteworthy critical edition of the Greek Testament ever produced by British scholarship." They presented what is doubtless the oldest and purest text that could be attained with the means of information available in their day. They took the critical methodology which was then in nascent form, refined it, and applied it to the various texts, producing the classification system which is still in use today; their evaluation of the various texts and text families, almost unchanged, is still accepted. This text, published in 1881, is the first modern critical text and as such the ancestor of the NA/UBS text. It is of use to those interested in the history of textual scholarship and to those who do serious critical work. This particular edition of the 1881 Westcott and Hort text contains morphological analysis contributed by Dr. Maurice Robinson.
Sample Screenshot from the Electronic Edition
Product Details
Title: Westcott and Hort Greek New Testament (1881) With Morphology
Authors: Maurice A. Robinson, Fenton John Anthony Hort, Brooke Foss Westcott
Publisher: Broadman
Publication Date: 1994
Pages: 392
Reviews
What other people are saying about Westcott and Hort Greek New Testament (1881) with Morphology.