Evangelical Commentary on the Bible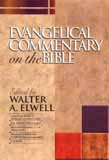 Overview
Walter A. Elwell, editor. The purpose of this commentary, is to help the average reader of the Bible understand what the text says. Using the NIV as a basis for its comments, this commentary is a totally new work, not a reprint or a revised edition. Thirty-eight contributors representing some of the finest American evangelical scholars present their articles in clear, easy-to-understand language. Includes outlines and introductions to each book of the Bible and extensive discussions of key biblical doctrines.
Product Details
Title: Evangelical Commentary on the Bible
Author: Walter A. Elwell
Publisher: Baker
Publication Date: 1996
Reviews
What other people are saying about Evangelical Commentary on the Bible.