First Love: Joy and Simplicity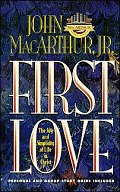 Overview
In First Love John MacArthur, Jr. asserts that what's been lost can be found. This book can help you restore the fire and conviction of your first love for Christ by helping you develop a clearer understanding of His character, His glory, and His love for you.
Product Details
Title: First Love: Joy and Simplicity
Author: John MacArthur
Publisher: Victor Books
Publication Date: 1996
Reviews
What other people are saying about First Love: Joy and Simplicity.